Kindly register with us for buying affordable homes in resale and a fresh booking
Post pandemic, the need for possession of flats in Noida has developed an interest in affordable ready-to-move-in units. Residential real estate has also bottomed out in 2020. Along these lines, there is an opportune time to invest in ready-to-move projects. December 2020 quarter has shown strong revival signs in the sale of affordable flats in Noida.
Latest Update on 22/09/2020
Gaur Group foraying into the affordable housing segment
Gaur Group decided to launch two projects in the affordable segment with an investment of Rs. 1000 crores. The projects will be developed over the next three years. The Company's Managing director, Mr Manoj Gaur informed us that the project will be developed in Greater Noida and Ghaziabad. The company has 25-acre land on Yamuna Expressway and 8 acre land at Crossing Republic Township at Ghaziabad. They are going to develop 7000 flats in the price range of 15 to 25 lac.
The Uttar Pradesh Government in coordination with the central government is providing various incentives to developers in view to boost the supply of homes in the affordable segment. The affordable segment caught the developer's eye after it got infrastructure status. Beneficiaries of this segment are eligible to get interest subsidy.
Gaur Group has already been developing a 250 acre integrated township on Yamuna Expressway.
Affordable Housing In Noida, Greater Noida. SDS Affordable apartment at NRI Residency, Pari Chawk Greater Noida
BHS-16/2013 Four storied apartments, Sector, MU-2, Greater Noida
BHS- 16/2013 Four storied apartments, Sector -10, Noida Extension
Yamnotri Houses - sector 22D Yamuna Expressway Greater Noida
Union Government has approved the recently announced scheme to provide budget rental accommodation to poor and migrant workers in the urban area.
Ministry has launched the affordable rental housing complexes under the PMAY-U as a part of Atma Nirbhar Bharat Abhiyan.
It is an effort to provide affordable living space to the urban poor.
Velocity wishes to contribute to realizing the dream of Prime Minister by way of assisting people to buy their dream home at a very affordable price.
We have several options in this segment to cater to the need of customers in the affordable segment. We have authority apartments as well as apartments of private builders.
These apartments are available in various prime locations of Noida, Greater Noida, Yamuna Expressway, and Noida Extension.
We highly recommend buying these properties, which are available at a very economical price.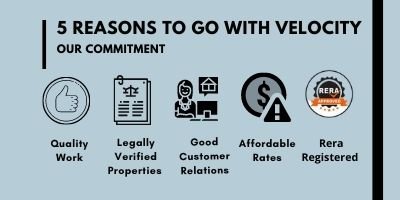 Q. What is Affordable housing?
Affordable housing refers to the housing units that are affordable for those with income below the average household income.
Q.What are the different categories of affordable housing?
In India, affordable housing is provided for middle-income people and the economically weaker section (EWS), and low-income group (LIG). They have considerably low levels of income.
Q. Why developer promote their project as Affordable housing projects?
In a view to divert developers from the luxury segment to the affordable segment, the Indian govt. decided that the affordable housing segment will get infrastructure status, which means many benefits to developers in terms of tax, completion time, enhanced refinancing facility, etc.
Q. How can I get the subsidy on a loan under Pradhan Mantri Awas Yojna to buy an affordable house?
Credit Linked Subsidy Scheme is one of the components under the Pradhan Mantri Awas Yojana (PMAY). Under it, the central government offers interest subsidy on home loans availed by applicants who fall under EWS (Economically Weaker Section)/LIG (Low Income Group)

Affordable housing by SDS Group to fulfill the dream of a common man to own a house.
(Exclusively marketed by Velocity Propbuild Private Ltd. having corporate office
at SNG Plaza, Near Pari Chowk, Greater Noida. U.P.)
Give wings to your dreams and book your apartment by just Paying Rs.11000/-
Project Name. : SDS Affordable housing
Location: Pari Chowk, Greater Noida, U.P.
Type. : 1 BHK
Super Area: 363 Sq.ft.
Possession: Ready to move
Specifications: Electrical-Copper Concealed Wiring, lights, Plug Points
Flooring- vitrified tiles
Wall -finish internal Wall Plastered and Painted
External finish- long-lasting Paint
Doors/Windows & bathroom fittings
Bank Loan. : HDFC & UBI
Parking. : Covered parking for Bike with each Flat
Approval & Registration: Project has attained all the approvals such as CC, O.C., and flat can be registered
Velocity housing is having more option for Affordable housing in Noida Extension and Greater Noida

BHS- 16 scheme
Greater Noida Industrial Development Authority has launched Residential Scheme BHS-16/2013 to fulfil the dream of economically weaker class and low-income group to own a house and invited applications to form for registration of four-storied flats in Sector - MU-II, Greater Noida & Sector-10 Greater Noida West.
If you missed the opportunity and could not book the flat, it is not late even now, still, you can buy a home at extremely affordable prices.
A total of 7215 flats were built in both the sectors, out of which 5250 affordable units of 30 sq. meter has been developed in sector Mu-II and remaining in sector-10 Greater Noida west U.P.
These are ready to move in flats with complete basic amenities to live a peaceful life. What are you waiting for, grab the opportunity, and turn your dream into reality? We at velocity facilitate the complete process till the registry. We also guide to avail housing loan and subsidy in a view to support our buyer in gaining the benefit of interest subsidy provided by govt. through PMAY, housing for all CLSS for EWS & LIG.
Q.What are the criteria of EWS (Economically Weaker Section)/LIG (Low Income Group)?
EWS refers to those households whose annual income is up to 3 lakh, and LIG refers to those households whose annual income is Rs. 3 lac to 6 lac.
Q. What do you mean by MIG- I & MIG-II?
MIG -I refer to those households whose annual income is Rs.6.01 lac to Rs.12 lac, and MIG-II refers to those households whose annual income is Rs. 12.01 lac to 18 lac.
Q. Can I avail the benefit of this scheme if I fall into any of these categories?
No, there are many eligibility criteria, and you should meet all these criteria.
Q. What is the eligibility to avail the benefit of interest subsidy under PMAY?
Eligibility criteria:
Should not own a pucca house in your name or the name of any other member of the family.
The ownership of the house should either be in the name of the female member of a household or joint ownership with your wife (applicable to EWS/LIG and revised EWS/LIG schemes only).
Should meet the income criteria as per various categories under the scheme.
The carpet area of the house should be 30 sqm for EWS beneficiaries, 60 sqm for LIG beneficiaries, 160 sqm for MIG – I beneficiaries, and 200 sqm for MIG – II.
Should not have taken a home loan or availed interest subvention benefit under the scheme.
Q. What is the maximum subsidy amount for each category?
The subsidy is given on interest-only & the maximum subsidy amount is
EWS/LIG - - Rs.2.20 lac
Revised EWS/LIG - Rs.2.67 lac
MIG - I - Rs.2.35 lac
MIG - II - Rs.2.30 lacer
Q. What is the carpet area limit for affordable housing?
Any house built on an area of 60 square meters or less in metros and 90 square meters or less in non-metro cities with a ceiling value of 45 lac in both the cases will now be categorized as affordable housing.
Q. What is the deadline for the Credit link subsidy scheme (CLSS)?
The Government has announced on Thursday (May 14, 2020) an extension of the deadline for the affordable housing credit link subsidy scheme till March 2021. The period for CLSS had expired on March 31, 2020. The announcement was the part of the second trance of the govt-relief package.
Q. What is an affordable rental housing scheme announced by finance minister Nirmala Sitharaman?
The Central Government will soon provide affordable rental houses to migrant workers and urban poor. It was announced on May 14, 2020, in the relief package announced by FM.
The scheme will be brought under Pradhan Mantri Awas Yojana (PMAY) scheme.
Best affordable housing ready to move in flats in Noida, Noida Extension, Greater Noida, Yamuna Expressway, Noida Expressway
Latest Survey of Delhi NCR, Noida, Noida Extension, Noida Expressway, Greater Noida, Noida extension.
We have shortlisted Six Affordable housing flat in Different location of Delhi NCR
Sector 10 In Noida Extension- Flats Area is 30 Mtr Covered. flats are ready to move in bank loans also available. Price starting of affordable housing in 10 lac. These Flats launched in authority schemes for low-income groups.
· Sector Mu In Greater Noida these flats also launched by Greater Noida Authority. All affordable housing flats ready to move in or bankable. The minimum size of 40 sqm. Price starting @ 14 Lac.
· Sector Swarn Nagri Greater Noida these affordable housing flats launched by authority 5 years ago but still this a good option for affordable buyers. Society fully occupied Price starting @12 lacs. In this property, You can also earn a good rental value of 5k-6k per month.
· Chi Phi Is Great Sector for Affordable housing All flats are ready to move in possession and registry started Price start @ 10 Lacs
· Sector Xu 2 this affordable flats a little far from the main city. But property ready to move in people are shifting in this area. All the necessary facilities are available.
SDS Affordable Housing Great Investment for affordable buyers bank loan available by govt bank. Register started. very good rental value. Sds Flats became a good choice for affordable buyers.
Q. How much loan is disbursed under the credit-linked subsidy scheme vertical of Pradhan Mantri Awas Yojna?
Ans. IIFL Home Finance Ltd., a company active in the affordable housing loan segment informed on 9 September 2020, it has approved loans worth Rs.7000 crore to 42,500 beneficiaries who belong to EWS, LIG and MIG.
Affordable housing In Greater Noida
Affordable housing In Noida Extension
Click To Know More About - Ansal Sushant Golf City