Why is Velocity Recommending Krishn Vilas plots?
Click here to know more: Best ( Flats in Noida ) Price Starts @ Rs. 25 Lac, Prime ( Commercial in Noida ), ( Residential Property in Noida )
Gaur Yamuna City Krishnvilas - In the plush environs of Yamuna Expressway, Gaursons has launched an integrated township project popularly known as Gaur Yamuna City just opposite Formula One (F1) track, to discover a home for all segments of society that pampers you with luxury like never before.
Click To Know More- Property Buying
Two hundred forty acres township would have lakes, schools, hospitals, parks, stadiums, shopping complex, and other infrastructure facilities. The township has 80% open space and fantastic architect to provide you with magnificent undisturbed views of the magnificent landscape as well as immeasurable natural light and ventilation.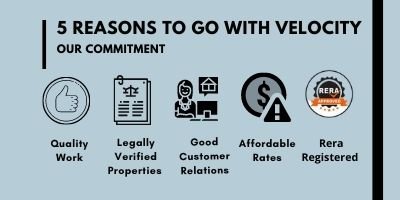 HOT PROPERTIES
Krisnhvilas (3rd Parkview)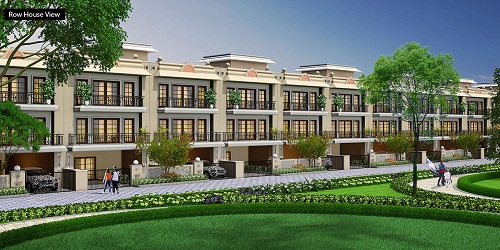 KrishnVilas,( UPRERAPRJ16103) the luxurious and peaceful surroundings will surely take you back to the golden age of Lord Krishna, where music and art charmed the world, where culture and devotion cleansed the soul.
Plots are available in the size of 150 square yards at Krishn Vilas within the integrated township - Gaur Yamuna City. Yamuna Expressway is the hottest real estate destination due to the upcoming Jewar International Airport.
The airport is not only giving a push to Yamuna Expressway but also attracting business investment from national as well as international players. KrishnVilas is true luxury soaked in the theme of Lord Krishna.
Krishnvilas Highlights
The project spread in an area of 1.01 lakh sq. mt. (25 Acres)
Immediate registry of plots
Bank loan from reputed banks up to 60% of the basic sale price
Two Entrance gateway - 30 meters wide road
Total number of plots - 410
Total number of 150 square yard plots - 227
Architecture inspired by Lord Krishna's teachings and life
An amalgamation of cultural heritage and modern living
Club Vrindavan- equipped with all modern amenities such as Amphi-theater, Meditation Garden, Swimming pool, Gym, Banquet Hall, Multipurpose hall, outdoor kids play area, and much more.
Yamuna Lake facing project
Nidhivan - Exclusive Yoga Park
Temple with design with a design element from Mathura and Vrindavan
Opposite to the shopping complex GYC Galleria
Arjun Rath
Arjun Rath- to inspire and invigorate day to day spiritual living
Layout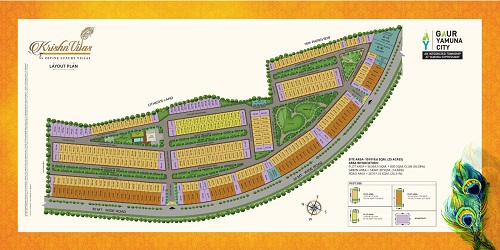 150 Square yard (125.41 Sq.Mt.) plots at Krishn Vilas Gaur Yamuna City Yamuna Expressway, Greater Noida are available having the dimension 16.72 M x 7.50M.
Limited plots in the prime location of Krishna's enchanting world where the enchanting music and majestic artwork will steal your heart.
Bank Loan Available
All the major banks such as HDFC, ICICI, are offering a loan on this project.
Location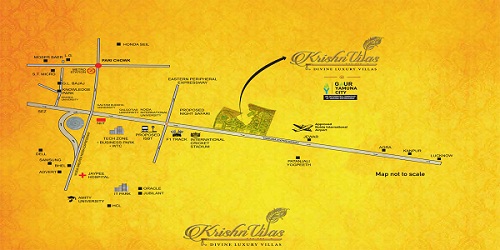 It is a magnificent site to reside in. Well-connected to whichever division of Delhi or any of its adjacent cities, it enjoys a great vocational advantage. If you want to go for a day-long outing, you go to Mathura or Agra via Yamuna Expressway. If you want to enter in Delhi, you can come through Noida E-way, DND Flyway, Mahamaya Flyover, and several other roads, which connects the present and past capital cities of India. Agra and Delhi, both the cities, are located by the river Yamuna, and the government has planned the highway beside the river. The entire highway will soon be converted into a posh corridor.
The Yamuna City is stretched over a 300 acres land, which is bordered by many living advantages, such as Noida City Center Metro Station, Expo Mart - The Pragati Maidan, Formula One track, top-notch higher professional edification institutions, hospitals, sports grounds, recreational areas, holy places, green straps, Night Safari, Lajpat Nagar (Delhi), Atta Market, and so on. It is close to
Location Advantages:
Integrated Township of 101 Hectare (250 Acres)
Almost 65% of Green Area
Close to Noida International Airport
Master Planning by RSP, Singapore
Approx. 4046 sq. mt. (9 acres) of Yamuna Lake
Well Landscaped Township
Q. What is the total area of the township Gaur Yamuna City?
Ans. This township is sprawling across 240 acres.
Q.What is the location of this township?
Ans. This integrated township is located on the Yamuna Expressway Greater Noida, U.P.
Q. Is "Krishn Vilas" the part of the township "Gaur Yamuna City"?
Ans. Yes, It is a 25-acres project inside this township?
Q. What are the other projects of this township?
Ans. Yes, there are many other projects like 16 Parkview, 32 Parkview, etc
Q. What makes it different from other projects inside this township.
Ans This project is based on the theme of the golden age of Lord Krishna with beautiful Nidhivan, a beautiful temple with an element of Mathura and Vrindavan, lake facing, and much more to give you peaceful life.
Q.How many plots are there at Krishn Vilas, Gaur Yamuna City, Yamuna Expressway Greater Noida.
Ans. There are a total of 410 plots.
Q. How many 150 square yard plots are there?
Ans. There are a total of 227 plots in the size of 150 square yards.
Q Has Gaur Yamuna City Krishnvilas tied up with banks for a loan?
Ans. Yes, Gaur Yamuna City Krishnvilas is approved by HDFC Bank and ICICI Bank.
Q. What are the property types available in Gaur Yamuna City Krishnvilas?
Ans: Gaur Yamuna City Krishnvilas is offering Villas & Plots in various sizes.
Yamuna City Krishnvilas
Gaur Yamuna City Krishnavilas Price List
Click To Know More About - Ansal API Rebooking, Sushant Golf City, Yamuna Authority Plot
Click to know more -Gaurs, Gaur Yamuna City