Top Seven universities in the world

Stanford University
Stanford University, located in California's Bay Area, is one of the most famous universities in the world. Founded in 1885, this prestigious institution primarily specializes in graduate-level studies comprising seven schools offering undergraduate and postgraduate degrees across various disciplines. These include humanities and sciences, earth sciences, engineering, etc. The language of instruction is English.
Stanford has a diverse community with around 8 percent of undergraduates internationally. Housing is guaranteed for four years for first-year students, and over 90 percent of undergraduates live on campus. Similarly, first-year housing is guaranteed for new graduate students as well. Over 60 percent of graduate students and 30 percent of faculty members reside on campus.
With a massive library system that supports over twenty libraries, Stanford boasts more than 9.3 million physical volumes available to its students and faculty members to support their academic pursuits. The university prioritizes research through funding exceeding $1 billion every year, which goes toward projects such as the SLAC National Accelerator Laboratory (a US Department of Energy lab operated by Stanford). Around 3,400 scientists visit the labs annually from all over the world to utilize the facilities, and more than 1000 scientific papers get published each year based on research conducted at Labs revealing its profound impact on academic discourse across fields worldwide!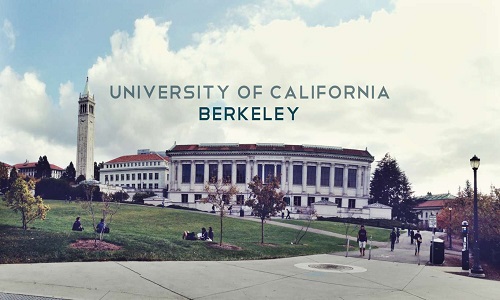 University of California Berkeley
Berkeley is located in the Bay Area, about 15 miles from San Francisco. This public university, often referred to as Berkeley or Cal, was established in 1868. Most students who attend the university are undergraduates. It consists of 14 colleges and schools, such as the Haas School of Business, College of Chemistry, College of Engineering, School of Public Health, and School of Law, which are all highly ranked. English is spoken on campus, and instruction follows a semester schedule.
UC Berkeley offers almost 350-degree programs, from popular undergraduate majors such as electrical engineering and computer science, economics, political science, business administration, and psychology, to name a few.
About 25 percent of undergraduate students live in campus housing, this number increases to 95 percent for freshmen. Graduate students have the option to reside in university-owned accommodations, yet many still decide to live off campus. Approximately 15 percent of the student population is international, and out-of-state tuition and fees are more expensive.
Around 3,000 international scholars visit Berkeley on an annual basis for either teaching or research positions. Research isn't limited to just academic departments and research centers - it is also conducted in some universities' scientific museums and their remote field stations that focus on botany, zoology, ecosystems, forestry, and more. Notable discoveries made by Berkeley researchers include californium and berkelium, which are both elements on the periodic table.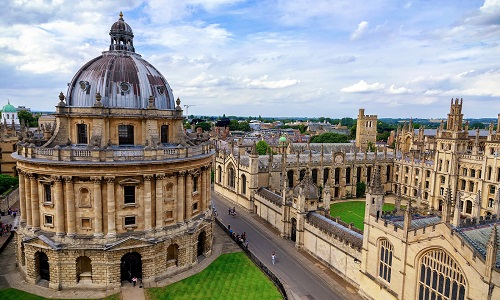 University of Oxford
The origins of the University of Oxford are traced back to 1096, but its exact founding date is unknown. Situated around 60 miles northwest of London, 45 percent of its students are studying for a postgraduate degree. For their studies, more than half of these grads conduct research in any one of the school's four divisions – humanities; mathematical, physical, and life sciences; medical sciences; and social sciences. The year is divided into three terms – Michaelmas (fall), Hilary (spring), and Trinity (summer), each lasting eight weeks - with English as the language of instruction.
The University of Oxford is a central university with 38 colleges and six smaller Permanent Private Halls. Each college provides amenities such as a dining hall, library, and common room, and undergraduates are usually entitled to college accommodation for their first year and beyond.
Graduate students do not have the same guarantee of housing however certain colleges sometimes make space available for international students during their initial year. Tuition fees are typically higher for non-European Union students but the university, its academic departments, and colleges, alongside numerous external organizations offer close to 900 scholarships specifically for those studying at the graduate level.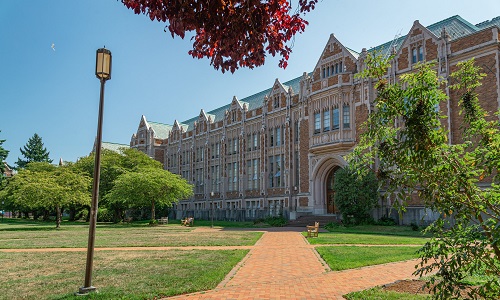 University of Washington Seattle
The University of Washington is a public institution established in 1861. Its main campus, which is the largest by enrollment, is located in Seattle, Washington's biggest city. To expand offerings, two smaller campuses in Bothell and Tacoma were added in 1990.
Overall, around 70 percent of students studying at the University of Washington pursue an undergraduate degree however, there is still a wide selection of graduate-level programs available. Non-Washington-state residents may notice tuition fees are higher and both undergraduate and graduate students can opt for university housing if desired. Classes are organized according to a quarter-based academic calendar, and all instruction is conducted in English.
The University of Washington offers a variety of courses through its sixteen colleges and schools, including the arts and sciences, engineering, and social work. Its graduate schools are highly esteemed, such as the School of Medicine, the School of Nursing, and the College of Education.
The University's Medical Center is well-regarded in several medical fields. The medical education program gives students opportunities to gain experience in many states within the region, from Alaska to Wyoming. This project seeks to bring more primary care doctors to rural places. Furthermore, UW has research awards that have surpassed one billion dollars recently, additionally housing over two hundred specialized research centers - like the West Coast Poverty Center, Polar Science Center, and Center for Emerging and Re-emerging Infectious Diseases.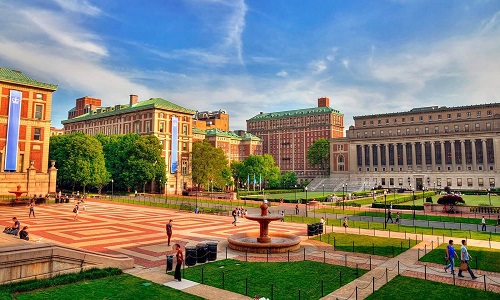 Columbia University
Established in 1754, Columbia University is a private institution located in the Upper West Side of Manhattan, New York City. Initially called King's College, it was renamed in 1896. Around 30 percent of the student population are undergraduates while close to 30 percent come from outside the United States. Most of the undergraduate students reside on campus, with some university housing options available for graduate students too. This school follows a semester-based academic calendar and courses are taught in English.
Columbia University consists of three undergraduate schools – Columbia College, the Fu Foundation School of Engineering and Applied Science, and the School of General Studies – plus a variety of graduate and professional schools. Examples include esteemed programs like the Business School, Law School, and College of Physicians and Surgeons.
It is also affiliated with institutions such as Barnard College for women, Union Theological Seminary, and Jewish Theological Seminary. New York-Presbyterian University Hospital of Columbia and Cornell serve as the university's teaching hospital. With research conducted across scientific, humanities, and social science disciplines at over 200 centers or institutes around the globe.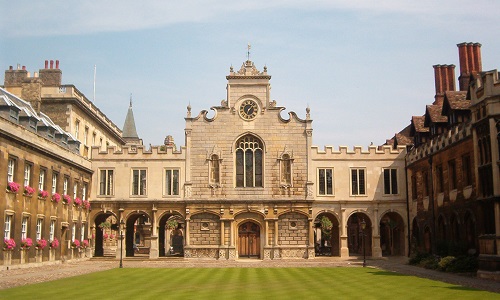 University of Cambridge
The University of Cambridge's history dates back to 1209 and it is currently home to around 19,000 students. With over 35 percent of these being degree-level students, the university is organized into six schools - arts and humanities; biological sciences; clinical medicine; humanities and social sciences; physical sciences; and technology - with numerous departments and divisions making up each school. The academic year is split into three terms - Michaelmas (fall), Lent (winter), and Easter (spring). English is the language of instruction at Cambridge, which is situated approximately 60 miles north of London.
The University of Cambridge boasts 31 residential colleges and 3 female-only institutions – Lucy Cavendish College, Murray Edwards College, and Newnham College, which are responsible for both undergraduate and postgraduate admission. Colleges provide small-group tuition, and college housing is available to undergraduates for up to three years, with some new graduate students also having access. Of the student body, 20% come from outside the European Union with fees varying according to the field of study; non-EU enrolment incurs higher costs.
There are over 100 libraries at the university, including college and departmental ones, as well as 140 centers and institutes focusing on research topics ranging from African Studies in the Centre of African Studies to economics in the Cambridge Centre for Economic and Public Policy, or geophysics in the Institute of Theoretical Geophysics. In a recent year, research grants and contracts amounted to roughly US$415 million.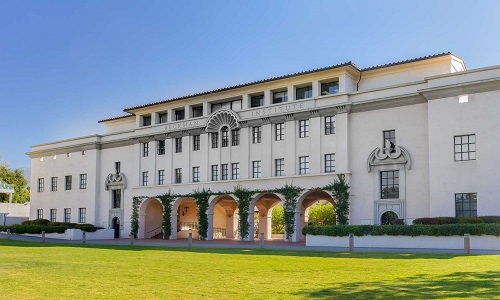 California Institute of Technology
Caltech, founded as Throop University in 1891 and receiving its current name in 1920, is a science and engineering-oriented institution located in Pasadena, California, just 11 miles northeast of Los Angeles. With an astonishingly low 3:1 student-faculty ratio and over one-fourth of students coming from outside the US, almost 2,200 students are enrolled at Caltech - around 55 percent of which are studying at the graduate level. English is the language used on this quarter's system-based campus.
Caltech consists of six academic divisions, including those with highly ranked graduate programs in biology and biological engineering, chemistry and chemical engineering, engineering and applied science, geology, planetary sciences, humanities, social sciences, physics, mathematics, and astronomy. All first-year undergraduate and graduate students are provided with housing at the university. In place of the traditional residence halls, found around the country are eight undergraduate houses, each featuring its own governing body and traditions. Priority for housing in the on-campus Catalina Apartments is granted to newly-admitted graduate students.
At Caltech, nearly four out of every five undergraduates take part in research activities through the Summer Undergraduate Research Fellowships. This program allows students to work with mentors, write research proposals and share their findings through presentations. The university hosts a plethora of research establishments, from the Resnick Sustainability Institute to the Tectonics observatory overseen by both employees and students. NASA's Jet Propulsion Laboratory is an institute devoted to the robotic exploration of our solar system.
Check out the news updates from India on current affairs, entertainment, sports, politics etc. Click here to know more about Top 5 Most Powerful Armies/Militaries in the World & Where is Sela Tunnel & Importance for India.