Shiva Tattva, the source of Shiva/Shankar, as well as the origin of Shiva lingam
At the beginning of creation, Brahma and Vishnu were born. Both energies were curious about who they were and why they were born. After they came to be, they saw a pillar of light that continued vertically and seemed endless. Therefore, both Brahma and Vishnu decided to discover who they were. To begin, they needed to identify who or what this pillar of light/energy was.
It seemed that this pillar of light was infinitely long. Brahma went upwards to find the head, and Vishnu went downwards to find the feet.
Upon their return, Brahma and Vishnu declared that the pillar they had seen was without end. This energy was labeled the Shiva Tattva and became the source of Shiva, & the origin of Shiva lingam. Today, one can find a Shivalinga in every temple devoted to him, signifying the unlimited nature of Shiva's energy. It is found in all atoms and particles of the universe. Consequently, Shiva is essentially what makes up creation, with his Shivalinga being an emblematic indication of this boundless nature.
HOW GODDESS PARVATI BECAME GODDESS ANNAPOORNA
When Lord Shiva and Goddess Parvati arrived at Kailasha, they discovered that the Shiva Ganas who resided there were accustomed to their lifestyles. While meditation was a frequent practice, other activities such as work and spiritual practices were also employed. As expected, Shiva preferred to stay in deep contemplation. All of them seemed to live like ascetics, not concerning themselves with matters such as personal grooming or food. They were seemingly content in their bachelor existence.
Goddess Parvati was taken aback by what she saw, so she set up a kitchen with various instruments and asked the ganas to bring in the necessary ingredients. But they were not pleased with this alteration and argued that raw fruits and kanda moola (roots and mushrooms) were enough for them. Despite the resistance, Parvati decided to make cooked meals available to everyone.
Even Lord Shiva, when he came to see what was going on, felt that a kitchen was unnecessary. The grumbling of ganas and cooking noises interrupted Lord Shiva's meditation.
Goddess Parvati asked him, Are you sure you don't want a kitchen? after he expressed his desire not to have one.
Shiva replied, I am sure..
Okay, we'll see, Goddess Parvati said and left.
The goddess Parvati is the embodiment of Prakriti (creation), which manifests all the things that we can see, smell, touch, and feel. As soon as she left, an aroma of cooked food began to permeate the Kailasha, making all the ganas hungry. Shiva too felt the pangs of hunger as the devotees felt them.
Shiva's meditation was disturbed once again as he noticed the hunger rising in him. He checked with the ganas and found that everyone was hungry, but the kitchen was empty.
Lord Shiva, the epitome of compassion, departed from Kailasha in search of divine help to quell the hunger of his devotees. His journey spanned the entire creation and ended in Kashi, where he took on a different form as Vishwanath - God of Earth - and appealed to Goddess Parvati for food. She too was filled with empathy and transformed into Goddess Annapoorna, who provided ample sustenance to Lord Shiva, which he distributed among all his devotees and creatures in the cosmos.
WHY GANESHA'S HEAD WAS CHOPPED OFF BY SHIVA?
After Goddess Parvati created Ganesha, she went to take a bath and put Ganesha in charge of manning the door, asking him not to let anyone in. Shiva came to meet Parvati, and Ganesha refused to let him in. Shiva cajoled and argued with Ganesha, but it was not to his advantage. Shiva cut off his head in anger.
Upon realizing what had happened, Goddess Parvati became devastated by the death of her son, and prayed to Lord Shiva to make things right. As the other deities searched for a solution, they found an elephant who had asked for a boon to be born as Shiva's son. The elephant's head was then placed on Ganesha's torso, and from there, the elephant head God was born.
Deep Symbolism of this Story
Lord Shiva is the embodiment of parmananda (eternal formless bliss), while Goddess Parvati represents jeeva (the body form). However, their union could not take place due to Ganesha's ego and its identification with only the physical world. This lack of knowledge is called Avidya or ignorance of the Self. As a result, Ganesha was unable to recognize Shiva, and it was only through prayer that the mind was filled with understanding and realized the joyous elements, thus allowing for the union of jeeva and Shiva to be completed.
Shiv Shankar Photo/Wallpaper/Images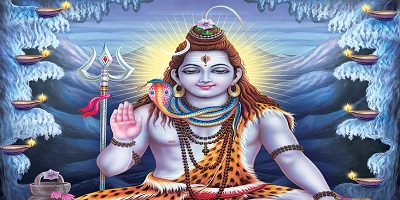 Shankar Mahadevan Shiv Tandav
Jatatavigalajjala pravahapavitasthale
Galeavalambya lambitam bhujangatungamalikam
Damad damad damaddama ninadavadamarvayam
Chakara chandtandavam tanotu nah shivah shivam
Jatatavigalajjala pravahapavitasthale
Galeavalambya lambitam bhujangatungamalikam
Damad damad damaddama ninadavadamarvayam
Chakara chandtandavam tanotu nah shivah shivam
Dharadharendrana ndinivilasabandhubandhura
Sphuradigantasantati pramodamanamanase
Krupakatakshadhorani nirudhadurdharapadi
Kvachidigambare manovinodametuvastuni
Jata bhujan gapingala sphuratphanamaniprabha
Kadambakunkuma dravapralipta digvadhumukhe
Madandha sindhu rasphuratvagutariyamedure
Mano vinodamadbhutam bibhartu bhutabhartari
Sahasra lochana prabhritya sheshalekhashekhara
Prasuna dhulidhorani vidhusaranghripithabhuh
Bhujangaraja malaya nibaddhajatajutaka
Shriyai chiraya jayatam chakora bandhushekharah
Lalata chatvarajvaladhanajnjayasphulingabha
Nipitapajnchasayakam namannilimpanayakam
Sudha mayukha lekhaya virajamanashekharam
Maha kapali sampade shirojatalamastu nah
Karala bhala pattikadhagaddhagaddhagajjvala
Ddhanajnjaya hutikruta prachandapajnchasayake
Dharadharendra nandini kuchagrachitrapatraka
Prakalpanaikashilpini trilochane ratirmama
Navina megha mandali niruddhadurdharasphurat
Kuhu nishithinitamah prabandhabaddhakandharah
Nilimpanirjhari dharastanotu krutti sindhurah
Kalanidhanabandhurah shriyam jagaddhurandharah
Praphulla nila pankaja prapajnchakalimchatha
Vdambi kanthakandali raruchi prabaddhakandharam
Smarachchidam purachchhidam bhavachchidam makhachchidam
Gajachchidandhakachidam tamamtakachchidam bhaje
Akharvagarvasarvamangala kalakadambamajnjari
Rasapravaha madhuri vijrumbhana madhuvratam
Smarantakam purantakam bhavantakam makhantakam
Gajantakandhakantakam tamantakantakam bhaje
Jayatvadabhravibhrama bhramadbhujangamasafur
Dhigdhigdhi nirgamatkarala bhaal havyavat
Dhimiddhimiddhimidhva nanmrudangatungamangala
Dhvanikramapravartita prachanda tandavah shivah
Drushadvichitratalpayor bhujanga mauktikasrajor
Garishtharatnaloshthayoh suhrudvipakshapakshayoh
Trushnaravindachakshushoh prajamahimahendrayoh
Sama pravartayanmanah kada sadashivam bhaje
Kada nilimpanirjhari nikujnjakotare vasanh
Vimuktadurmatih sada shirah sthamajnjalim vahanh
Vimuktalolalochano lalamabhalalagnakah
Shiveti mantramuchcharan sada sukhi bhavamyaham
Imam hi nityameva muktamuttamottamam stavam
Pathansmaran bruvannaro vishuddhimeti santatam
Hare gurau subhaktimashu yati nanyatha gatim
Vimohanam hi dehinam sushankarasya chintanam
Puja vasanasamaye dashavaktragitam
Yah shambhupujanaparam pathati pradoshhe
Tasya sthiram rathagajendraturangayuktam
Lakshmim sadaiva sumukhim pradadati shambhuh
Shiv Shankar ki Aarti
Om Jai Shiv Omkara, Swami Jai Shiv Omkara?
Brahma Vishnu Sadashiv, Ardhangi Dhara?
Om Jai Shiv Omkara?
Ekanan Chaturanan Panchanan Raje?
Hansasan Garudasan Vrishvahan Saje?
Om Jai Shiv Omkara?
Do Bhuj Chaar Chaturbhuj Dashbhuj Ati Sohe?
Trigun Roop Nirakhate Tribhuvan Jan Mohe?
Om Jai Shiv Omkara?
Akshmala Vanmala Mundmala Dhari?
Tripurari Kansari Kar Mala Dhari?
Om Jai Shiv Omkara?
Shvetambar Peetambar Baghambar Ange?
Sankadik Garunadik Bhootadik Sange?
Om Jai Shiv Omkara?
Kar Ke Madhya Kamandalu Chakra Trishuldhari?
Sukhkari Dukhhari Jagpalan Kari?
Om Jai Shiv Omkara?
Brahma Vishnu Sadashiv Janat Aviveka?
Pranavakshar Ke Madhye Yeh Teeno Eka?
Om Jai Shiv Omkara?
Kashi Mein Vishwanath Viraje Nandi Brahmachari?
Nit Uth Darshan Paavae, Mahima Ati Bhaari?
Om Jai Shiv Omkara?
TrigunswamiJi Ki Aarti, Jo Koi Nar Gaave?
Kahat Shivanand Swami, Manvanchit Phal Paave?
Om Jai Shiv Omkara?
Om Jai Shiv Omkara, Swami Jai Shiv Omkara?
Brahma Vishnu Sadashiv, Ardhangi Dhara?
Om Jai Shiv Omkara?
Shiv Shankar ko jisne pooja Bhajan lyrics
Shiv Shankar ko jisne puja uska hi udhar hua
Ant kaal ko bhavsagar mein uska beda paar hua
Bhole Shankar ki puja karo
Dhyan charno mein iske dharo
Har har Mahadev shiv shambu......
Damro vala hai jag mein dayalu bada
Din dukhiyo ka data jagat ka pita
Sab pe karta hai yeh bhola shanker daya
Sab ko deta hai yeh aashara
In pavan charno mein arpan aakar jo ek baar hua
Ant kaal ko bhavsagar mein uska beda paar hua
Om namo Shivay namo
Har har Mahadev Shiv Shambu......
Naam uncha hai sabse Mahadev ka
Vandana iski karte hain sab devta
Iski puja se vardaan pate hain sab
Shakti ka daan pate hain sab..
Nag asur prani sab par hi bhole ka upkar hua
Ant kaal ko bhavsagar mein uska beda paar hua
Shiv Shankar ko jisne puja uska hi udhar hua20
Ant kaal ko bhavsagar mein uska beda paar hua
Bhole Shankar ki puja karo
Dhyan charno mein iske dharo
Har har Mahadev Shiv Shambu
Lord Shiva's Son
Ganesha, the elephant-headed god of obstacles, and Kartikeya, the warrior god, are Shiva's two sons.
Lord Shiva's Daughter
A Hindu goddess, Ashokasundari is the daughter of Shiva and Parvati. Her story is narrated in the Padma Purana, which is revered in South India as Bala Tripurasundari.

Lord Shiva's Family
In his benevolent aspect, Shiva is depicted as an omniscient Yogi who lives an ascetic life on Mount Kailash as well as a householder with his wife Parvati and his three children, Ganesha, Kartikeya, and Ashokasundari.
Find illustrations about the most revered Hindu deities having different powers to run this complex universe. Click here to know about Lord Brahma | History, facts, Wife, Story, Power, Images & Lord Krishna Birth, History, Facts, Images, Bhajan
For more information visit: Lord Shiva