International Women's Day
International Women's Day is celebrated every year on March 8.
Every year, on March 8, International Women's Day is observed as a national holiday in most of the country. To remember their struggle for peace, justice, equality, and development, women across the nation come together crossing all cultural and ethnic boundaries.
It is time to honor, respect, and adore the amazing women in our lives this International Women's Day, whether they are your mother, wife, or daughter. Let's show our gratitude for their achievements and dedication to a world free of all ills for women.
International Women's Day has been observed since 1909 in the United States. However, after a while, the American people stopped celebrating this holiday. As early as the 1920s, the Soviet Union and other Communist countries, such as China and Cuba, began celebrating this day as an event to promote women's rights and world peace. Since then, the holiday has become increasingly popular.
It is often viewed as just a way for men to express their love for women, similar to Mother's Day and Valentine's Day. Men present their mothers, wives, girlfriends, colleagues, etc., with gifts. A half-day off for women is often observed on International Women's Day in some countries. School celebrations often honor teachers.
In 1975, the UN also started recognizing this holiday for women's rights.
The 8th of March is observed as International Women's day globally to accelerate women's equality and celebrate the economic, social, and political achievements of women. The UN chooses a political or social theme for the holiday each year.
It is now an official holiday in Albania, Algeria, Armenia, Azerbaijan, Belarus, Bosnia and Herzegovina, Brazil, Burkina Faso, Cameroon, China, Cuba, Ecuador, Georgia, Italy, Israel, Laos, Kazakhstan, Kyrgyzstan, Macedonia, Moldova, Mongolia, Montenegro, Poland, Romania, Russia, Serbia, Tajikistan, Ukraine, Uzbekistan, and Vietnam for International Women's Day.
International Women's Day 2023 Theme
The theme of International Women's day 2023 is DigitALL- Innovation & Technology For Gender Equality. The theme aims to empower women and girls across the globe through technological education.
Importance of International Women's day
Every year, International Women's Day honors the achievements of women in the fields of social, economic, cultural, and political affairs. Groups and campaigns are organized on this day to raise awareness of women's equality and to celebrate women's achievements.
International Women's day quotes
"The best protection any woman can have is courage." –Elizabeth Cady Stanton
"Women are the largest untapped reservoir of talent in the world." –Hillary Clinton
Little girls with dreams become women with vision.
The rise of women does not mean the fall of men.
Behind every successful woman is herself.
Never let women's rights get left behind!
Stop the silence and the violence.
Women should not be afraid, to speak or to be.
International Women's day wishes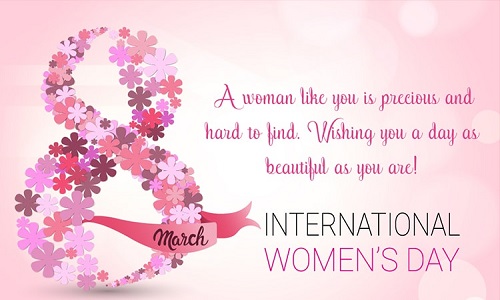 Women can, and you can help. Happy Women's day!
Happy Women's Day means a happier women's future.
Shatter glass ceilings, and don't be afraid of your feelings. Enjoy women's day.
This Women's Day, and every day, stand up for women.
Equal pay, equal opportunity, and equality for all genders.
Just because women are strong, doesn't mean life should be hard.
You are an inspiration and blessing to me. Happy Women's day!
International Women's day Images
International women's day Instagram captions
A woman with a voice is, by definition, a strong woman.
She needed a hero, so she became one.
Behind every successful woman is herself.
She believed she could, so she did.
Never apologize for being a powerful woman.
We celebrate many festivals throughout the year in different styles. Every festival is unique, read about the most popular festivals of India like Taj Mahotsav Festival Agra 2023 & Akshaya Tritiya 2023 Date, Timing, Gold Mahurat, Images.