The Prateek Group has firmly established itself as one of the leading developers of real estate in India by imprinting its ineffaceable mark across all asset classes. The company strives to innovate, excel, and promote sustainability.
The company cares about customer needs, be it timely delivery of projects or living up to commitments in terms of using quality materials, infrastructure, and pricing.
Well organized team
The company is headed by individuals with adroit capacity. They have employed and collaborated with high-caliber architects and interior designers to ensure quality and sustainability.
The leaders and skilled professionals of the company have worked towards launching out of the league projects and take the real estate sector to the next level.
Phenomenal craftsmanship
The Prestige Group today has become a name that is synonymous with innovation and phenomenal craftsmanship.
They have been delivering high-quality projects and meeting the international quality standard.
Creation of various landmark projects
The company has pioneered many landmarks developments. The spirit of creativity is reflected in all the projects.
The company has set new trends in architectural design in the contemporary global scenario touching the horizons of excellence.
About Us:- When the foundation of a company is laid on the principles of quality, transparency, and commitment, the journey of that company is ought to become a benchmark in the realms of business. Prateek Group has proved this age-old notion right as it was incorporated in 2005 with the sole aim of being true to the stakeholders involved and keeping the business ethics in mind as it grows. Founded by Mr. Prashant Kumar Tiwari, a first-generation entrepreneur and a civil engineer by qualification, the company has lived up to his idea of turning the common man's dream of owning a home into a reality.
During the course of the company's progress, Mr. Prateek Tiwari -- the scion of Prateek The group -- pitched in as Managing Director in 2012 and brought a fresh perspective to realize the dreams of the founder. Holding multi-dimensional responsibility, he proved that the ethic-based business teachings of his father – Mr. Prashant Kumar Tiwari -- are right.
ONGOING PROJECTS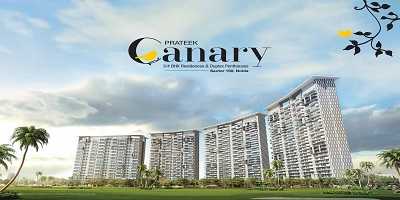 Prateek Canary
Imagine waking up to a magnificent and uninterrupted panoramic golf view and a Huge private party deck to embrace it. A neighborhood for the select few with a carefully crafted collection of just 664 Units having 3/4 BHK residences and duplex penthouses built over a sprawling 12.55 acres of land. Add to it, a dedicated clubhouse with all the modern amenities including, hospitality, retail, entertainment, and wellness. A World Where Life Sings With Joy.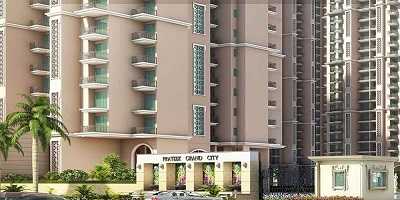 Prateek Grand City
'Grand Carnesia' & 'Grand Paeonia' being developed at Prateek Grand City, Siddharth Vihar, next to Indirapuram, Nh -24. 'Grand Carnesia' is an addition to its world-class township and is the first phase of development after 'Grand Paeonia'. Just like the 'Grand Paeonia', the 'Grand Carnesia' will offer all modern world-class facilities to the residents and will make luxury affordable by offering 2, 3, and 4 BHK homes with luxurious amenities.
The Grand Carnesia comprises 2784 units approx within 15 exclusive towers. The Grand Paeonia comprises 1724 units approx within 9 exclusive towers. Each tower in Grand Carnesia & Grand Paeonia has a minimum of 26 floors to a maximum of 28 floors.
READY TO MOVE PROJECTS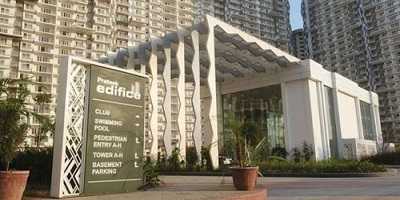 Prateek Edifice
With over 100% approx. area flaunting lawns landscaped greens, and water bodies, these 3/4/5 BHK luxury apartments are exquisitely designed to transport you to a world of leisure and beauty. The large spacious drawing room here exudes class and the adjoining dining area, large enough to host a sit-down dinner, flaunts an unparallel style. Casting a magic spell of complete comfort are the lavish bedrooms with nature inviting balconies. Nothing equals the luxuriousness of Edifice where your search for a perfect dream home ends here.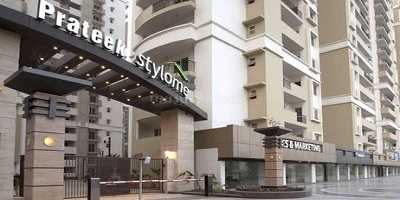 Prateek Stylome
Yet another high-rise living destination surfaces on the horizon. But this one is not just a high rise. It is a high luxury project.
The premium class of the project can be gauged by the fact that it does not have any two-bedroom homes but only 3, 4, and 5 bedroom homes. Secondly, it is not in any far-flung corner of the NCR but in the prime location of sector 45 in the premium living destination of Noida.
And lastly, the ingredients that comprise the whole project, like specifications, amenities, the club Stylize, security, and landscaping are premium class. As for the homes, they are spacious, airy, and designed for optimum privacy. Just like homes should be.
Prateek Wisteria
A dream home with majestic towers which are located around extensively landscaped central greens in the heart of Noida. Prateek Group has planned apartments that are unique in many ways under the name PRATEEK WISTERIA. The project is offering state-of-the-art facilities and managed by an internationally renowned brand. The project has 2, 3, and 4 bedrooms luxury homes with ingredients of high-end specifications, amenities, and a world-class Club facility.
Prateek Laurel
Prateek Laurel, a one of its kind milestone project is brought to you by the Prateek Group, an organization that has always kept its commitment to timely delivery while keeping true to its core value of transparency. Prateek Laurel comes with a great combination of luxury, location, and landscape. These planned apartments within the greens bring you closer to nature and your loved ones too.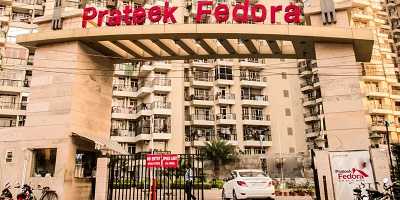 Prateek Fedora
Prateek Fedora is located at well known and posh locality of Sector-61, Noida. Prateek Fedora was launched in July 2009 and was duly handed over in March 2012. With 2,3,4 BR Homes options Prateek Fedora is graced with all modern amenities, high-end specifications, and world-class features & luxury.
The sector is well connected to Delhi NCR and its proximity to all essential needs made it a lucrative proposition.
Prateek Royal Cliff
This project had high rise aesthetically designed multi-story buildings. 2 B/R option of 1250 sq. ft., 3 B/R option of 1655 sq. ft. and 3 B/R option of 1940 sq. ft with unmatched facilities make living enjoyable in The Royal Cliff. We made Air-conditioned apartments with fully wooden work.
Complete modular kitchen equipped with an electric chimney, Hob & R.O. System. Designer Toilets, Master Toilets has a shower panel with a glass enclosure with all branded fittings. Designer concept interior with a combination of rich plastic paint & texture paint. It has a facility of membership of a premium class club with swimming pool, fitness club, sauna bath, billiards room, cards room, etc.
Soon N.H.-24 is going to be 14 lane expressway, bringing Delhi even more closer. Famous Fortis Hospitals & other Prestigious Schools & Engineering Colleges, Management Colleges are close by.
Live in style in best quality development by leading builders such as Parsvnath Developers Builder Projects & Pro Infra Real Group Builder Projects .
Browse for more builders in Noida, Greater Noida, and Yamuna Expressway to find out the best for investing in prime property.