The Bhutani Group has firmly established itself as one of the leading developers of real estate in India by imprinting its ineffaceable mark across all asset classes. The company strives to innovate, excel, and promote sustainability.
The company cares about customer needs, be it timely delivery of projects or living up to commitments in terms of using quality materials, infrastructure, and pricing.

Well organized team
The company is headed by individuals with adroit capacity. They have employed and collaborated with high caliber architects and interior designers to ensure quality and sustainability.
The leaders and skilled professionals of the company have worked towards launching out of the league projects and take the real estate sector to the next level.
Phenomenal craftsmanship
The Prestige Group today has become a name that is synonymous with innovation and phenomenal craftsmanship.
They have been delivering high-quality projects and meeting the international quality standard.
Creation of various landmark projects

The company has pioneered many landmark developments. The spirit of creativity is reflected in all the projects.
The company has set new trends of architectural design in the contemporary global scenario touching the horizons of excellence.
About Us:- Some believe many good leaders are born not made, yet not many can remain, strong leaders, unless they continuously sharpen their skills and look for ways to grow. At Bhutani Group, that remains our greatest impetus in growth.
With the highest standards of deliveries and return on investment all across Delhi and NCR over the last two decades, Bhutani Group is on a continuous trajectory of evolution inspired by and creating best practices in the world of development.

Grandtham
Bhutani Grandthum is the pre-eminent super-regional shopping center in the Greater Noida West, India.
It adheres rigidly to the criteria of accessibility, visibility, and critical mass, all of which predetermine the success of any retail center.
The layout of the project is configured in a double-level figure eight that gives it walkability and a condensed footprint unrivaled by other comparable schemes locally and globally.
Natural light and connectivity of the project between the two levels set the standard that is demanded in new centers today. Grantham on-grade parking decks are initially accessed via an ingenious, undulating ring road system; that eliminates the need for ramp systems, thereby giving equal importance to both levels of the Grandthum project.
By not surrounding the building with parking, connectivity to the rest of the Grandthum precinct is ensured.
Blending form with function, the Iconic twin tower's design was an exercise in simplicity, efficiency, and sustainability of Grantham. Using LED technology on the façade and focusing on public space and strong pedestrian thoroughfares in Grandthum, we balanced striking aesthetics with commercial viability.
Bhutani Grandthum is a landmark retail icon, comprising retail, leisure, entertain, and a tower over 36 levels, crowned by an Observation Deck at 28th level with 360-degree views.
With its vast range of facilities and vivid light display, Grandthum injects energy and activity into Nodia's contemporary culture.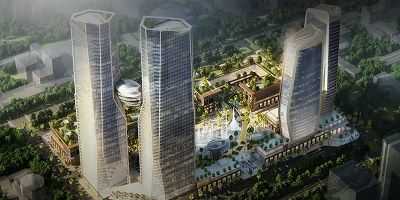 Cyberthum stands at the cutting edge of technology that drives tomorrow. Part of a 26.8 Acre mixed-used development, it is the definition and the benchmark of what tomorrow's landmarks will be built on.

Alphathum
At Alphathum, that very courage is our spark for every initiative, be it creating India's most efficient business towers or creating the blueprint for the physical, emotional, and financial well-being of the occupants and customers of our developments.
We take pride in our pioneering work processes that encourage all stakeholders to challenge their preconceived thought process to deliver true value and meaningful interaction between people and with nature.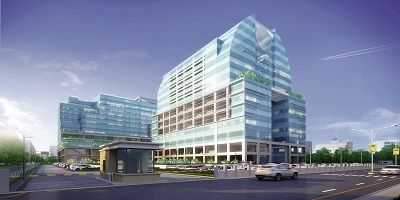 I-Thum
The I-THUM is the future of IT Parks in Noida, Situated at Sector 62 in Noida is another landmark from the Bhutani Group.
World Square Mall
World Square Mall, by Bhutani Group in Ghaziabad, is one of the eye-catching malls with attractive infrastructure and multi-store outlets. A multiplex, Banquet, and a 3 Star Hotel is also a part of World Square Mall.
World Square Mall is a one-stop destination where you can enjoy with your family, colleagues, and hang around with your close ones. If you are searching for a place where you want to relax and want to forget all the tension and stress of your life, then World Square Mall is the best mall in Ghaziabad and a place to hang out.
The people who are a fashionista and want to be updated with all the latest trends than can check out the various and exotic collections.
WSM knows how to catch the attention of the customers as it is having most of the domestic and international brands like Pantaloon, Haldiram, Spar Hypermarket, Max Fashion, Woodland, Van Heusen, Peter England, Bata, Archies. You can enjoy the various brands along with the food court and fun cinemas under the same roof, which makes WSM the best destination for customers to rejuvenate their weekend.
Live in style in best quality development by leading builders such as ATS Greens Builder Projects & Earthcon Builder Group Projects .
Browse for more builders in Noida, Greater Noida, and Yamuna Expressway to find out the best for investing in prime property.