KB Expo Mart, The Best Commercial Property in Noida/Greater Noida
KB Expo Mart is an iconic commercial and business hub at Knowledge Park, opposite India Expo Mart, Greater Noida, opening newer possibilities and opportunities for redefining the business style of the new generation of workforce.
India Expo Plaza is Located opposite India Exposition Mart, Expo Plaza Greater Noida, a commercial project, is ideally placed. It is the perfect location for a growing business that deserves world-class offices in a prime location.
Invest in Ocean Golden I and get assured rental from the first day of investment
@12% pre-possession
@8% post-possession
Backed by a nationalized bank solvency certificate to ensure risk-free investment
Spreading over 25 acres of land, Ocean Golden I, sector Tech Zone-IV Greater Noida (West) U.P, is developing as the most reputed central, retail & business district hub to cater to the requirement of inhabitants. It consists of retail showrooms, lockable and un-lockable commercial spaces, hypermarkets, food court, corporate suites, and Studio and residential apartments.
Kisan Quota plots for commercial purposes in Greater Noida at a very affordable price
7% plots are also known as Kisan Quota plots. These plots are allotted on a developed land to the farmers against their land acquired by Greater Noida Authority.
Advantages of buying Kisan Quota plots in Greater Noida
The key benefits of Kisaan Quota plots/7% plots?
50% of the plot area can also be used for commercial purpose
Available at very less price if compared to normal plot price
Immediate registry
Prime location
What do you expect while investing in commercial property in Noida?
How can you fulfill your expectation? Just consider the following facts while investing in commercial property in Noida :
Futuristic location

Attractive pricing

Thoughtfully designed space with excellent functionality

Poised to emerge as a flourishing ecosystem of growth

Instant loan facility
You may also check some other Projects like Assured Return & KB Expo Mart in Noida, Greater Noida, Noida Extension, Yamuna Expressway, Noida expressway.
Why Noida is a perfect location to invest in the commercial real estate market?
Multi-National Companies and global tech giants are focusing on the Indian market. These Companies require well-furnished office space in the strategic location at a minimum price. Delhi NCR is one of the most coveted locations for most of these MNC. If we analyze the price, connectivity, infrastructure, etc, commercial property in Noida seems to be the most attractive location in Delhi NCR. commercial property in Noida has seen prominent growth as a commercial and business hub as many startups, entrepreneurial ventures are working in this region.
Let's analyze the reasons, why investing in commercial property in noida is profitable: Strategic Location
Noida is one of the best locations in NCR to expect an excellent return from your investments. Noida is well connected to all parts of NCR. It is a well-planned city creating a great advantage for the investors seeking ultra-modern design and high-end infrastructure. Noida is expanding its horizon, so is the commercial real estate and its imprints can be found on Yamuna Expressway, Noida Expressway, and Greater Noida.
Commercial Property in Noida
Commercial Property in Noida is available at a very competitive and affordable price suiting the budget of all types of investors. There are several opportunities for a different type of commercial property in Noida such as a retail shop, office space, studio apartments at very flexible prices. One can get a good discount along with a lease guarantee and assured return. If you want to invest at a very reasonable price with a lot of benefits, commercial property in Noida can be a great option for you. Despite these benefits, the commercial property price in Noida is a lot cheaper than in Gurgaon and Delhi.
Prospects of Growth
Investment in commercial property in Noida will be an impeccable avenue for gaining substantial returns. Noida has developed significantly in the last decade. Several new projects are coming up such as the international Jewar airport, one of the largest film city and many more that ensures your investment in commercial property in Noida will exponentially appreciate in the coming years.
Excellent Infrastructure
Noida has a world-class infrastructure. The establishment of several SEZ and IT Park has led to unprecedented growth in the city, attracting investors and MNCs from all over the country and abroad. In such a scenario, it makes sense to invest in the commercial property in Noida.
Omaxe Connaught Place
Omaxe Connaught Place is one of the most prominent commercial and entertainment centers in Greater Noida. It has revolutionized shopping, entertainment, and business since its inception. Omaxe Group aims to be one of the country's most formidable players in commercial real estate and they have recreated the iconic Connaught Place. Click here to Know More: Omaxe Connaught Place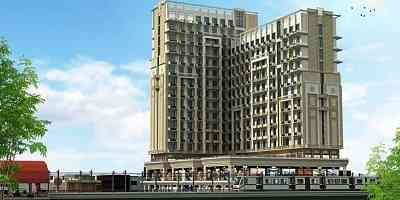 Kaveri City Centre
The Kaveri City Centre is a low-budget premium commercial destination with an elegant and spacious design encompassing the requirement of corporates and retail segments. The Kaveri City Centre is the perfect example of fascinating infrastructure that displays an excellent ambiance. Click here to Know More: Kaveri City Centre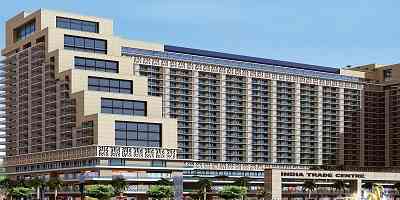 Omaxe India Trade Centre
Omaxe India Trade Centre covers an estimated area of 3 acres that includes the main tower, multi-level parking, and many other facilities. There are 20 floors in the tower of Omaxe India Trade Centre, and each floor has approximately 1000 units for offices, spaces & shops.
Check & compare the best residential, commercial, & industrial properties such as Office Space Buy & Sell In Noida, Greater Noida & Best Property Sale/Rent In Noida in prime locations within your budget.
Discover your dream property from the best modern apartments, Villas, Penthouses, studios, shops, office spaces, etc. Find residential, commercial, and industrial plots in prime locations.