The Paramount Group has firmly established itself as one of the leading developers of real estate in India by imprinting its ineffaceable mark across all asset classes. The company strives to innovate, excel, and promote sustainability.
The company cares about customer needs, be it timely delivery of projects or living up to commitments in terms of using quality materials, infrastructure, and pricing.

Well organized team
The company is headed by individuals with adroit capacity. They have employed and collaborated with high caliber architects and interior designers to ensure quality and sustainability.
The leaders and skilled professionals of the company have worked towards launching out of the league projects and take the real estate sector to the next level.
Phenomenal craftsmanship
The Prestige Group today has become a name that is synonymous with innovation and phenomenal craftsmanship.
They have been delivering high-quality projects and meeting the international quality standard.
Creation of various landmark projects

The company has pioneered many landmark developments. The spirit of creativity is reflected in all the projects.
The company has set new trends of architectural design in the contemporary global scenario touching the horizons of excellence.
About Us:- Welcome to a life without compromises. Paramount Group, one of the best real estate developers, not only in Noida but in Delhi NCR also, brings you premium residential options with modern amenities. From conceptualization to design to the implementation, paramount Group's projects always strive for perfection and excellence.
Paramount Group is a young and contemporary real estate company to create industry milestones. It has already established itself amongst the leaders, and its projects are known for their unparalleled quality and unmatched style.
Set up by the M.D. Mr. Mukesh Aggarwal 23 years ago, the company has grown from strength to strength under his tutelage. His endeavors have paid off high dividends in the form of immense growth and success for the company and its people. Strongly committed to excellence, we are associated with world-renowned architects for quality control and project management, which has helped us in developing some of the most lively and modern buildings of recent times.
Paramount Golfforeste is an ideal place for golf lovers with beautiful green fields spread wide. The project provides luxurious studios, suites, AC/Non AC Apartments, and independent villas (row-houses) for you to live in. Live a sleek and sporty lifestyle by playing golf routinely.
At Paramount Golfforeste, golfing is a great companion across the beautiful green fields. Make your lifestyle more fun and active with a golf game in the fresh green environs. Golf being the game of elite will imbibe patience and love for nature in your child's attitude. So, with a set of golf, let them discover an elite and healthy way of living.
Paramount presents a "6 hole, par-three executive Golf Course" at Golfforeste, which is ideal for short game improvement. It has many challenges of play from bunkers to undulating landscapes. The glamour of this course is that almost every villa owner in front of the course shall feel the ownership of this golf course.
Paramount Golfforeste is one of the most extravagant premium housing projects of Paramount Group at BGH-A, Site-C, Opp. Sector Zeta, Greater Noida (U.P.). Here one can enjoy the beauty of Nature with the mystifying sounds of chirping squirrels and tweeting birds.
Paramount Golf Mart
Paramount Golf Mart is one of the private improvement of Paramount Group, situated at Sector ZETA I, Greater Noida. It offers roomy and skillfully composed business shops and office space. The task is very much furnished with every single advanced amenities and 24X7 security administration to encourage the occupants' needs.

Paramount Golf Mart, the proposed shopping center is not only a shopping center but a complete commercial zone catering to the township.
Paramount Emotions
Paramount presents Paramount Emotions, 2 and 3 bedroom spacious apartments in Greater Noida West with all the modern features and amenities. The homes at Paramount Emotions are roomy to give you enough breathing space and comfort.
Apart from this, the project is situated on a three side open plot to allow maximum natural ventilation into the rooms. Paramount Emotions is based on a theme where maximum apartments get the park view as they're positioned on a centrally green plot.
Paramount Emotions in Greater Noida West is a lifestyle that traverses the sublime. The project is equipped with all the necessary and high tech facilities that modern lifestyle demands.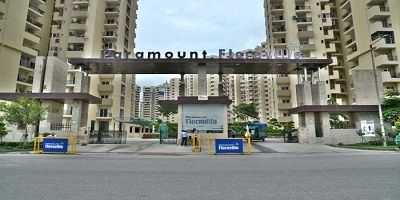 Paramount Floraville
Paramount Floraville, is an attempt by Paramount Group to bridge the gap between superior living standards and healthy living. The project promises to fulfill a common man's desire to live in a chaos-free environment with prudent lifestyle amenities.
The widespread greenery on a theme-based landscape surface is unhindered by any obstacle. Innovatively, a gigantic podium parking is being built below the landscape surface to give you space you always desired for. Beautiful landscaping connects the two levels of greenery gracefully.
The landscape is beautified with mounds, evergreen trees, and flowery plantations. These help to bring out the home in a resort feeling while living in the residential complex of Paramount Floraville.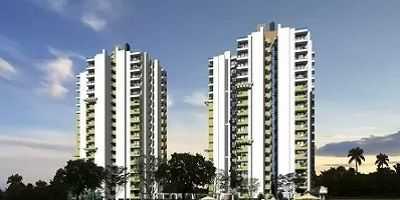 Paramount Symphony
Paramount Symphony has two distinct advantages. As the name suggests, everything that a modern lifestyle demands is harmoniously integrated into the project. It is also located in India's first global city, the Crossings Republik, at the junction of Ghaziabad-NOIDA-Greater NOIDA on NH-24.
The homes are modern and airy, with delightful add-ons and a choice of premium luxury as well as luxury-economy homes. The facilities boast of comforts like Wi-Fi connectivity and a business lounge, on the one hand, while having indulgences like a health club, spa, and a swimming pool, on the other.
This 360-acre township promises, crossing Republik, an international lifestyle of world acclaim with lush green surroundings, blooming gardens, and shady trees, besides the best in urban comforts. Be it leisure, amenities, or security, everything has been well cared for.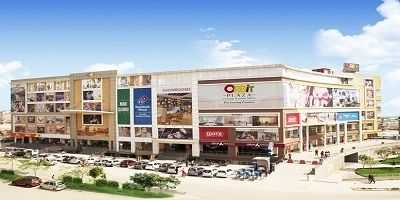 Paramount Orbit Plaza
Paramount Ajnara Joint Venture (PAV) is the coming together of two giant names in the real estate sector. Both organizations have come together for the first time to combine their skills and come up with a project called Orbit Plaza, which shall change the way people look at the concept of a Plaza.
The said project is situated in Crossing Republik-India's First Global City on NH 24. The alliance of these two companies is a move to raise the bar of real estate projects in the NCR with great designs, state-of-the-art technology, inherent engineering excellence, economy, and affordability.
In their own right, the two names enjoy immense trust and credibility amongst their clientele and competitors.
Paramount Group of Companies is an ISO 9001:2000 certified company. The group has become one of the largest real estate companies in Delhi – NCR, having both residential as well as commercial projects under its wings. It measures its success by the smiles and satisfaction of customers.
Ajnara India Ltd. (Formally Ajnara Farms and Services Ltd.) is a real estate giant with an experience of almost a decade and a half. Its center of operations is the expanse of East Delhi, and U.P. Ajnara has effectively completed various projects, both residential and commercial, on land acquired from DDA & GDA through auctions.
Ajnara is associated with Crossing Republik through its premium housing project called the Ajnara GenX.
Paramount Builder,
Paramount Projects,
Read About Other Builder - Parsvnath Developers