The Sun Twilight Group has firmly established itself as one of the leading developers of real estate in India by imprinting its ineffaceable mark across all asset classes. The company strives to innovate, excel, and promote sustainability.
The company cares about customer needs, be it timely delivery of projects or living up to commitments in terms of using quality materials, infrastructure, and pricing.

Well organized team
The company is headed by individuals with adroit capacity. They have employed and collaborated with high caliber architects and interior designers to ensure quality and sustainability.
The leaders and skilled professionals of the company have worked towards launching out of the league projects and take the real estate sector to the next level.
Phenomenal craftsmanship
The Prestige Group today has become a name that is synonymous with innovation and phenomenal craftsmanship.
They have been delivering high-quality projects and meeting the international quality standard.
Creation of various landmark projects

The company has pioneered many landmark developments. The spirit of creativity is reflected in all the projects.
The company has set new trends of architectural design in the contemporary global scenario touching the horizons of excellence.
About Us:- Sun Twilight Group (Sunrise Structures And Developers Pvt. Ltd.) has today evolved as one of the most innovative real estate firms in India. Our extensive expertise has built for us an unshakable reputation for quality, trust, ethics, integrity, and leadership.
We believe that our job is not just to build homes but also to build lifelong relationships. Sun Twilight Group (Sunrise Structure's And Developer's) dedication to lead extends from every aspect of its diversified business portfolio and comes down to the company's refusal to compromise on quality, value, style, or service. We understand our responsibility to preserve nature for healthier and happier generations of tomorrow.
Sunrise Structures And Developers Pvt. Ltd. is a highly diversified, dynamic, and multifaceted company. We owe our meteoric rise to the upper echelons of the Durable, Pharmaceuticals, Apparel, and real estate/construction industry to our ceaseless efforts to understand the core needs of our customers, go above and beyond their experience and deliver superior products at most competitive price in the Industry.

Sun Twilight is the name of Project launched under the company name Sunrise structures and developers Pvt. Ltd.
This is a RERA approved Project. Designed by Padma Vibhushan Awardee, eminent architect Hafeez Contractor.
The project location is Rep plot no 2A, Sector 27, Opposite Delta 1 Metro Station, Greater Noida on 105-meter road, and the other side is the 60-meter road.
The project is adjacent to Jaypee Greens Greater Noida and surrounded by the best of the best commercial market and residential societies. Amidst such a wonderful location, the company has brought the Project in a total of 25 acres of land which comprises just 134 Villas in 70,000 sq.m.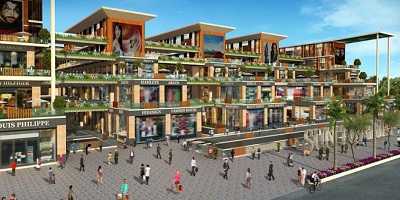 Sun Twilight High Street Commercial Retail or Sun Twilight Metro Street Right in Front of Delta 1 Metro Station, 2KM away from Pari Chowk "Sun Twilight Metro Street offering High Street Commercial Retails Shops, ATMs, Serviced Apartments & Office Spaces and Ultra Luxury 4 Side Open Villas.
Sun Twilight Metro Street launched by Sunrise Structure and Developers Pvt Ltd with access to facilities like Recreation & Health, Entertainment, and Shopping, etc.
Basics of Sun Twilight Metro Street: 4.5 Acres of Commercial Development. This is 3 Side Open Plot and Right next to the Delta-1 Metro Station. Retail Shops Salable Area on Lower Ground Floor-435 Sq.ft, Ground Floor-435 Sq.ft, 1st floor-311 Sq.ft, 2nd Floor- 260Sq.ft. At 3rd & 4th Floors, there are Serviced Apartments & Office Spaces.
Location Advantages: Close to Residential Projects like Jaypee Greens, Eldeco Greens, ATS Dolce, Omaxe NRI City, Eldeco Meadows, Purvanchal Heights, Purvanchal Silver City, and many others.
Amidst such a wonderful location, the company has brought the Project in a total of 25 acres of land which comprises just 134 Ultra Luxury Villas in a land area of approx 18 acres. 4.5 acres commercial development on Concept of High Street Retail (Shops, Showrooms, Hypermarkets, Food Court and Entertainment Spaces) and 2.5 Acres Future Expansion/Green Belt.
Live in style in best quality development by leading builders such as Stellar Group Builder Projects & Supertech Limited Builder Group Projects .
Browse for more builders in Noida, Greater Noida, and Yamuna Expressway to find out the best for investing in prime property.