Godrej Properties has firmly established itself as one of the leading developers of real estate in India by imprinting its ineffaceable mark across all asset classes. The company strives to innovate, excel, and promote sustainability.
The company cares about customer needs, be it timely delivery of projects or living up to commitments in terms of using quality materials, infrastructure, and pricing.
About Us:- The Godrej Properties is a real estate group and a multinational conglomerate. We have business portfolios across multiple industries, including real estate development, advanced engineering, fast-moving consumer goods, home appliances, security, furniture and more.
Our businesses represent more than USD 15 billion in market capital, and we've made our name one of the most trusted brands in India. Godrej Group is all that -- a powerful, diversified brand with an estimated 1.1 billion customers and annual revenue of USD 5 billion across the globe.
Godrej Properties builds homes to make your life better
Godrej Properties started in 1897 with a vision to be successful and make a positive contribution to India's future. They've been successful creating high-quality products like Home masters kitchen ranges, which are protected against fire, and creating the voting booths that were used in the country's first democratic elections.
We have always tried to take into account what the people and planet need, as well as making sure that our earnings are compensated. Approximately 23% of Godrej Group's promoter stake belongs to humanitarian trusts which work on environmental, educational, and health care issues in India.
Just like you, we have a deep passion for what we do and hope to make the world a better place. We believe that change starts with small steps, so we're bringing our excitement and purpose together to create a more employable Indian team, build a greener and healthy India, and innovate for great environmental products.

Godrej Golf Links Greater Noida township has been carefully designed to offer an unmatched quality of life. It includes a number of amenities, like a sports stadium for major sporting events, Olympic-size swimming pools, theaters, hotels and medical facilities. You'll find countless apartments in the low-rise Godrej Golf Links at sector 27 Greater Noida. Easy connectivity makes these homes far more attractive than any others you will find in this area.
Godrej Golf Villas At Golf Links offers you a range of recreation activities, coming with an impressive sports area, 9-hole golf course, and more.
Find your dream home at Godrej Golf Links. With the most luxurious amenities, indulge in sophisticated living amidst lush green environs or perfect your swing at one of the many golf courses. Discover the finest luxury villas near Pari Chowk right now.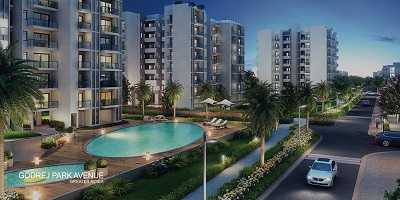 Godrej Park Avenue
These premium low-rise apartments are near Pari Chowk. They're in Golf Links, a new mixed-use project by Godrej Properties that will define the next generation of living address in Greater Noida. They combine luxury amenities with a prime location to provide residents with a piece of the good life.
Godrej Golf Links Park Avenue is the latest residential building in Greater Noida. With its beautiful location in Delhi, it provides luxury living that's meant for living life to the fullest.
These apartments are perfect for anyone who wants to live in a premium lifestyle—close to business hubs and major areas. Plus, the developer is running multiple projects in different locations across India.
This project provides more amenities in the locality and guarantees the best residences near Sector 27 Gr Noida. Green surroundings are provided to the location for the best living address.
Park Avenue by Godrej Properties is more than a lifestyle choice, it also lets you choose from a wide range of options. There are compact apartments and larger villas with floor-to-ceiling windows and a spacious interior, from 115 square meters to 146 square meters of space.
This project has the full-range of residences available, from studios to mansions. All of them are located in the same township and come with a futuristic price tag. Over the last decade, buying a property has become less about buying a place to live and more about acquiring a lifestyle.
This future residence is still four years away, which means you have plenty of time to invest in a property that will last for a long time. With the backing of Godrej, you can be sure that almost all your needs and desires will be met with high-quality building materials and an outstanding maintenance team. Property is just one side of the story.
The Godrej Park Avenue offers a lifestyle-driven living in the Delhi-NCR region. It won't be hard to access the Yamuna Expressway and Ghaziabad, which is just 15 minutes away. In addition, Greater Noida is emerging as a hub with close proximity to Noida and Delhi, which makes it great for easy connectivity. It's also worth noting that this development has close proximity to NGN expressway, so your commute will be easy.

Godrej Presidential Villas
Godrej Presidential Villas Greater Noida is coming near to Pari Chowk with a unique range of luxury living residences. Enjoying the reputation of being one of the leading golf townships in NCR, Godrej Golf Links Villa in Greater Noida exudes quality and provides its residents with an unparalleled lifestyle.
Given the sheer size of this project, there are many things to love. These attractions include a high-quality nine-hole organic golf course, numerous high street shops, an indoor heated pool, a spa & salon by Warren Tricomi, and even more amenities. You're sure to have a good time spending time here!
We offer a reconciliation of services at Godrej Villas Sector 27, with 3/4 BHK villas. The elegant and graceful interior decoration makes your living here an absolute joy. Our innovative ventilation ensures that you're always getting fresh air and sunlight. The wide balconies on the other hand provide panoramic views to enjoy from the project.
The popularity of this location is due to its convenience of being just a few blocks from the upcoming Alpha 2 metro station, Taj Express, upcoming international airport, and expressways.

Godrej The Suites
Godrej Properties is one of India's best real estate companies. Their Godrej The Suites project will change the lives of their residents with the perfect facilities and environment.
This project is one of three high-rise towers in the first phase of development for 100 acres of township lands. Godrej Suites Situated at Greater Noida near Pari Chowk, the first phase of development encompasses three high-rise towers. These towers offer studio and two bedroom apartments with an unparalleled level of comfort. Apartment amenities include ultra-modular kitchens, spacious rooms, Italian marble flooring and ample natural lighting with ventilation.
This property offers a large, green, open space and two side apartments that are open. It also has 24-hour water supply and power back up facilities. Additionally, the property includes recreational zone and everything else that buyers would want.
With its tremendous commercial potential, Greater Noida is one region of Delhi-NCR that is well-connected with wide roads and expressways. The project is centrally located, giving you an easy connection to the entire Delhi-NCR. The DND expressway (Delhi Noida Direct) connects Greater Noida to Delhi, while the Noida-Greater Noida expressway provides seamless connections to and from Greater Noida and Yamuna Expressway (Yamuna Expressway - Meerut) connects it with major cities in UP.
When the upcoming metro station is finished, it will be easier to reach Noida or Delhi. Some great attractions include Greater Noida or Noida extension, international schools, and some great hospitals as well! Shops and shopping complexes, banks, ATM's, malls etc. are easily accessible too.
You can live in a studio apartment or 2 BHK apartment at Godrej The Suites and still receive the best of both worlds.

Godrej Windsor
Located at Godrej Golf Links in Sector 27 of Greater Noida, Uttar Pradesh, the Godrej Windsor Low Rise Apartments ensures luxury living near to Pari Chowk. It's designed with splendid residential apartments that include marvelous amenities, and the property is conveniently located in the serene surroundings of Greater Noida.
The Godrej Golf Links Windsor Noida is designed to give you the most alluring lifestyle. It's only natural that we ask a lot from life nowadays: more comfort, more pleasure, and more peace of mind. Our apartments are designed to provide all of it for you.
The amazing community of Greater Noida offers personal lawns, personal balconies, and parking for every house.
These luxurious prefab homes offer the experience of golf course views without the hassle.
Godrej Windsor is a new project in Greater Noida that has been drawing quite a lot of attention. There are plenty of reasons to like about this project, but the best benefit has to be its location. It's conveniently located near Noida and Delhi, which will make it easy to travel around or commute.
Availability of 3 BHK and 4 BHK apartments gives buyers a greater opportunity to buy the one that matches their budget and needs. This project offers ample parking space, big walkways, 24-hour security, CCTV surveillance and more. Amenities include a clubhouse, swimming pool, amphitheater, tennis court and more. It's for all these reasons that Godrej Windsor Greater Noida has become popular in such a short period of time.
The popularity of these web series is growing in leaps and bounds. It can safely be predicted that the next few days will see their popularity increase drastically. An assessment that appears to be more than likely to come true.

Godrej Exquisite
Godrej Exquisite by Godrej Properties is a splendid upcoming holistic project at the 100-acre Godrej Golf Links Township, which is located in Sector 27, Greater Noida close to Ukranian corner. This beautiful golf-themed project will comprise luxurious villas in pastoral atmosphere.
The project is also close to Yatharth Super Speciality Hospital, Sharda Hospital, and Kailash Hospital. It's well-connected via the FNG (Faridabad-Noida-Ghaziabad Expressway), Yamuna Expressway, and Noida-Greater Noida Expressway. Its proximity to Pari Chowk lets you easily get anywhere in Delhi NCR.
The metro station is just a few kilometers from Godrej Exquisite Greater Noida, and this will make it easier to travel and commute. With so many world-class amenities, you might never want to leave! Godrej Exquisite offers well-designed living spaces full of breathtaking views that provide a new level of beauty.
Godrej Exquisite is a luxury 4 BHK villa with abundant greenscapes. And it's 2 USPs, the sprawling patios and green lands, make it the most desirable address in town.
Life in Exquisite villas in the Godrej Golf Links would not be less than luxurious. This is because the premium developer offers a number of amenities to its residents. Important ones include: power back-up, CCTV, and 24*7 water facilities; all included as standard at this gated community. In addition to these essentials, you'll also find some pretty cool lifestyle features available to you, only at these gated villas themed after golf courses.
Book your luxurious Godrej Exquisite villa now! If you're looking for a life of luxury and elegance, don't miss the opportunity to stay at one of our amazing rentals.

Godrej Crest
Godrej Crest is a low-rise community in Sector 27 in Greater Noida. Compared to previous projects, the whole project is more luxurious and innovative.
Godrej Crest is a new world of luxury, elegance and sophistication. You can enjoy the same kind of lifestyle as if you were staying in a 5-star hotel, but now you can live this way every day! When you wake up in the morning, have your coffee while watching birds chirping around your villa.
Godrej Properties is a trusted, established real estate business with a focus on delivering homes at an affordable price. They deliver their signature royal feeling to their clients from the moment they enter the gates. If you buy a home with Godrej Properties, you can enjoy the royal feeling of a king entering his domain.
In just a few weeks, Godrej Properties will be launching Godrej Crest Golf Link. This new project will offer elegant and sophisticated lifestyle along with amenities that can only be found at 5-star hotels.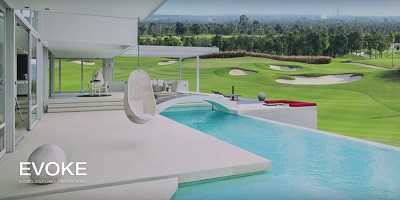 Godrej Evoke
If you are looking for a luxurious villa in Sector 27 of Greater Noida, near Pari Chowk, Godrej Evoke Villas would be a perfect fit. These residential units offer 3 BHK, 4 BHK and 5 BHK villas with lush green open spaces to give their residents the high-quality lifestyle they deserve. Godrej Properties is ready to offer an exclusive opportunity to buy a luxurious Godrej Golf Links Evoke, nestled amid the lush greenery of Greater Noida.
Boasting 200 acres of land, these villas are limited edition and designed to be globally appealing. Enjoy an evening out with your family on the nine-hole golf course or take your dog for a walk in the acres of greenery that surround it. The villa is available in various sizes and styles so you can decide which best suits your needs before you arrive.
Godrej Evoke Villas provides residents with an outstanding villa lifestyle through an array of amenities such as an Italian marble floor, outdoor terrace deck, aromatic gardens, designer modular kitchen, and a private mini plex.
Strategically located in Greater Noida, near Pari Chowk, the property is close to some of the area's attractions like Amity University and Jaypee Hospital. There are three major expressways within a few kilometers of the project. Our villas include spacious living quarters with roomy bedrooms and elegant bathrooms. We offer superb amenities including lush green valleys, modern facilities and more. All of these features make our project one of the best in its area!
One of the best things about this project is that it's connected to both metro and highways. Besides the great social infrastructure and connectivity, another important aspect of this project is a luxurious Villa for affordable prices.
This big property is called the godrej and is a huge company for the real-estate industry. If you would like to have a villa with the finest features, excellent area, and one which will give your money value then you should look at the choice of godrej golf link evoke in sector 27. This can be one address where you will get all of the best facilities.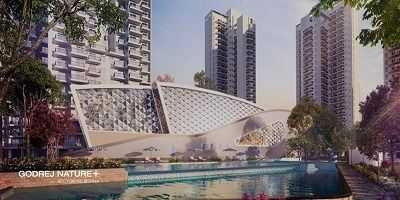 Godrej Nature Plus
The Godrej Nature Plus project is a new, luxurious residential project situated in the commercial sector of the green city- Gurugram. It is located at Sohna Road and offers 2, 3 and 4 BHK apartments with exquisite amenities. The launch of its units will happen on South of Gurgaon where developers are looking for homebuyers who want to live comfortably.
Godrej Properties owns and operates residential projects in India including Pune, Chennai, Bangalore, and Mumbai. The company mainly builds apartment buildings in major cities across the country and offers a green environment with good amenities.
Living in a home like the Life of Comfort & Luxury Awaits YouGodrej Properties Nature Plus Sohna Road Sector 33 Gurgaon is more than just living in an apartment. With so many great amenities, both inside and out, you'll never want to leave. It's located near corporate hubs, schools, colleges and shopping malls.
Godrej Properties is developing their first residential project in Sohna Road. In Sector 33, Gurgaon you will find this compound complete with an environment that accepts nature. This development features ample room for fresh air and surrounds it with nature.
The project was designed with the city of Gurgaon in mind, and will feature 24X7 security, and beautifully landscaped gardens. The key USP of the project is its Sohna Road location. This section of the city is rapidly growing and has become a haven for housing complexes.
The closeness of various hospitals, shopping malls and renowned schools creates an advantageous location for this project. The Unveiling Exclusive Healthscape Residences That Add More To LifeGodrej Nature Plus Sector 33 Gurgaon project is going through massive developments as many unified projects are coming up in the area.
Godrej Properties is a recognized pioneer in the real estate industry and one of the largest in the world. The loft residences in their various projects provide residents with first-rate amenities such as a grand clubhouse, jogging track, multipurpose hall, and even a swimming pool. With these amenities and more, they're sure to make life at Godrej Gurgaon Sector 33 comfortable and luxurious.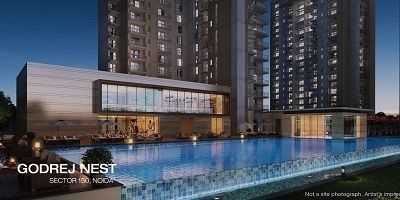 Godrej Nest
Godrej Properties introduces Godrej Nest, a residential project that would be an icon at Sports City on Noida Expressway. This project is spread over 36 acres of land, and offers 3BHK & 4BHK Penthouses residential flats. They have sizes ranging from 1250 sq.ft to 3000 sq.ft.
Nest Sector 150 Noida is a perfect mixture of living a luxurious lifestyle in a peaceful location that will help you maintain the balance between your professional and personal life.
Godrej Nest at sector 150 Noida expressway is the newest addition to the rapidly developing area of Noida. The close proximity to the Noida - Greater Noida Expressway, Yamuna Expressway, and proposed metro corridor make it a great place to live. With direct links to Delhi via the signal-free expressway and the upcoming metro link, it's easy to get around and enjoy everything Godrej Nest has to offer.
Noida Sector 150 is the buzz-worthy destination for the new residential projects. Here, you find ample of facilities so that your homes will truly connect you to nature. Godrej nests will be exclusive creations that make its residents feel like they're in modern life.
Godrej Properties Nest is a new housing project offered by a well-known real estate builder, Godrej Properties Limited. The project is located in Sector 150, Noida and has been designed to give you the best in comfort and amenities. Nest Sector 150 Noida is close to Yamuna Expressway for convenience.
The project is located just a stone's throw away from the DND flyway and it takes just five minutes to reach. The residents of the project are in close proximity with the upcoming international cricket stadium and Pari Chowk. Residents can easily commute to Delhi or Ghaziabad.
Live in style in best quality development by leading builders such as Gaursons Group Builder Projects & Gulshan Homz Groups Builder Projects .
Browse for more builders in Noida, Greater Noida, and Yamuna Expressway to find out the best for investing in prime property.
For more information visit: Godrej Properties Group