The Gaurs Group has firmly established itself as one of the leading developers of real estate in India by imprinting its ineffaceable mark across all asset classes. The company strives to innovate, excel, and promote sustainability.
The company cares about customer needs, be it timely delivery of projects or living up to commitments in terms of using quality materials, infrastructure, and pricing.

Well organized team
The company is headed by individuals with adroit capacity. They have employed and collaborated with high caliber architects and interior designers to ensure quality and sustainability.
The leaders and skilled professionals of the company have worked towards launching out of the league projects and take the real estate sector to the next level.
Phenomenal craftsmanship
The Prestige Group today has become a name that is synonymous with innovation and phenomenal craftsmanship.
They have been delivering high-quality projects and meeting the international quality standard.
Creation of various landmark projects

The company has pioneered many landmark developments. The spirit of creativity is reflected in all the projects.
The company has set new trends of architectural design in the contemporary global scenario touching the horizons of excellence.
About Us:- Gaurs Group foundation since 1995 and stands for Transparency and Excellency, and the group has never looked back because the company has been creating international quality, architectural excellence, and customer satisfaction. The company care all about customer need and also on-time delivering projects with committed specification and quality.
Gaurs Group has successfully delivered more residential and commercial projects such as Gaur Heights, Gaur Green Avenue, Gaur Homes, Gaur Ganga, Gaur Grandeur, and more in the all Delhi/NCR location. Gaur developed an NCR's biggest township located at Greater Noida West is Gaur City and also Developing the first and biggest mall of Greater Noida West- Gaur City Mall.

GYC is an integrated township sprawled over a massive 101 hectares (250 acres). It is situated on the Yamuna Expressway, which is a six-lane (extendable to 8 lanes), 165 km. The long access-controlled highway connecting GYC to Noida, Greater Noida, and Delhi. A well-planned road with flyovers and interjections enabling clutter-free traffic.
The proposed metro will further enhance its connectivity to the DMRC network. Gaur Yamuna City is one of the most significant amalgamations of residential, commercial, and retail outlets, making it the talk of the town. With the basic civic infrastructure of the highest standards, it also possesses state-of-the-art amusement and recreational activities.
The entire township is thoughtfully planned to give an excellent experience. It offers Plots, Apartments, Retail Shops, Studio Apartments, Themed Villas, Sports, and a lot more.

16th Parkview
16th Parkview offers spectacular and amazing views and will become the most preferred residential choice in NCR. The development comes with complete health and fitness facilities like tennis court, gymnasium, swimming pool, jacuzzi, and various other amazing amenities.
The project also offers a play area, drop off the plaza, water bodies and surrounds you air with 65% open lush greens and spacious area with affordable pricing; the project also promises high returns in the future due to its amazing location which connects it to the major parts of the city.
The project comprises of low rise 3 BHK apartments and individual floors, which will be one of its kind. The project is a part of the integrated township Gaur Yamuna City which is the next best destination of NCR. The project also offers a temple with a sitting area, play area, aroma garden, landscaped court, feature well, and much more.

2nd Parkview
The Project is a part of the 1012200 sqm. (250 Acres) Gaur Yamuna City and offers residential plots at an affordable price. The plot size starts from 65 sq.meter and goes up to 347 sq.meter and promises you high returns due to its prime location. The 2nd Parkview plots are right in front of the lake, and with its state of the art infrastructure, this project will be one of its kind.
The total no of plots in the project is 611, surrounded by fresh air and lush greens making life more peaceful. Buying a plot in the 2nd park view will give you a fantastic option of constructing your villa, and for a speedy construction by the experts, Gaurs Group can also do the same for you.
A fusion of creativity and innovation will define the future of living and further enrich the project and Gaur Yamuna City. With a leading location, lush greens, open areas, and facilities like milk booths for 200 sq.metre each, multi-purpose hall/club of 700 sq.metre and police chowki, and the project will soon be the heart of a new and modern version of NCR.
Every detail in 2nd Parkview has been visualized to provide its residents with the most comfortable and elegant lifestyle. 2nd Parkview will be a pioneer of integrated living, inspiring the surroundings with the perfect combination of dynamic experiences, innovation, and iconic design.

32nd Parkview
It is a part of Gaur Yamuna City offers which premium residential plots and world-class infrastructures with a minimum plot size of 91 sq meter (981 sq. ft) and a maximum of 2376 sq. Ft (221 Sq Mt). A blessed life begins at 32nd Parkview at an affordable price, along with promising high returns.
The township offers ready to build plots and also provides amenities like clubhouse, garden, swimming pool, badminton court, and gymnasium. Owning your dream plot in 32nd Parkview will be a lifetime opportunity one should not afford to miss. These 488 plots will offer lush green surroundings, fresh air, and a new wave of living.
With all the modern yet affordable facilities, one would lead a dreamy lifestyle in 32nd Parkview. Bringing together the finest of the details of life, 32nd Parkview offers a luxurious and comfortable living experience to nurture the mind, body, and spirit.

Victorian Era
The Elegance of Victorian Era Comes To Gaur Yamuna City. A brilliant masterpiece in the world of luxury residences, Victorian Villas holds a mirror to the architecture and lifestyle of a culture that was at the heights of magnificence. The 3 and 5 BHK villas here are designed to make the eyes widen in astonishment and the heart flutter in excitement.
Equipped with the entire array of would class luxury amenities, life here will be as luxurious as it'll be beautiful. Every inch of the Victorian Villas exudes elegance and bliss, promising to be the perfect abode for you and your family to build a life upon.

Gaur Runway Suites
Gaurs Runway Suites is an ultra-modern concept for an unmatchable experience of contemporary living. Modishly built, it has commercial spaces up to the third floor followed by multi-level car parking, and the rest of the tower has commercial studio apartments.
It offers 1 BHK commercial studio apartment of 42.73 sq.metre. (460 sq. ft.). It is a pinnacle of engineering excellence and conceptualizing brilliance, making it every modern city dweller's dream. It forms part of the most coveted Gaur Yamuna City, an integrated township that has world-class amenities for an exclusive lifestyle.
GYC is spread across a massive 101 Hectares (250 acres) and advantageously situated on the six-lane Yamuna Expressway, making it easily accessible and affluently convenient. Gaurs Runway Suites, having all the advantages of its location and the unique amalgamation of commercial and retail, is one of the most favorable destinations for home buyers and investment opportunities.

Gaur City 7th Avenue
Gaur City is built with a concept of walk to school, walk to work and walk to play where each resident will have easy access to all famous places in a walking distance. An integrated smart 'Gaur City,' the first allotted township of Greater Noida(west). Gaurs Group is the first developer to get the completion certificates in Greater Noida (West) and the first to give possessions.
With a unique blend of excellent location, budget-friendly pricing, and fantastic infrastructure, Gaur City has a lot to offer. The township is having certified Green Building Residential and Commercial projects by the Indian Green Building Council, and its master plan has been designed by the renowned Singapore based consultant.
The project offers 2 and 3 BHK apartments and has a 70112.25 sq.metre. Sports complex, which includes an open gym and a cricket academy run by Former Indian Cricketer- Mr. Madan Lal. Not only this, but the township will also look after all the daily needs of a resident, which includes school, crèche, gymnasium, restaurant, convenient shops, petrol station, multiplex, and many more.

Gaur City 14th Avenue
Gaur City was envisaged by Mr. Manoj Gaur with a concept of walk to school, walk to work and walk to play where each resident will have access to all famous places at a walking distance within the city itself.
Today, that dream has taken shape, and the Integrated Smart City, Gaur City, is the first to get the completion certificate and the first to give possession in Greater Noida (West). With a unique blend of excellent location, budget-friendly pricing, and fantastic infrastructure, Gaur City has a lot to offer.
The township is certified by the Indian Green Building Council (IGBC), and its master plan has been designed by the renowned Singapore based consultant.
Not only this, but the township also takes care of all the daily needs of a resident right from grocery stores to vegetable and daily need stores, from creche/playschools to a CBSE affiliated Gaurs International School, restaurants, petrol stations, upcoming Gaur City Mall with a 9-screen multiplex, the impressive Radha Krishna Temple and everything else that a resident would need from a modern dwelling.

Gaurs Siddhartham
Gaurs Siddhartham is a world absolute by itself. The sweeping lush surrounding, an assortment of most excellent amenities, and ample space between towers will make your living an enriching experience. Going smart over the natural resources endows the residents with an eco-living in this blissfully tranquil location.
Right next to Indirapuram, it offers excellent connectivity to every part of NCR. The handpicked location will provide you with a serene lifestyle and a turmoil free life. The 16 lane development on the NH-24 (NH-9) will make your commutation smoother, better, and faster.
The NHAI has proposed to convert the existing stretch of NH-24 (NH-9) on the Delhi side to 16 lanes. Now enjoy the hustle free life at Gaurs Siddhartham and travel without getting stuck. The project is coming up right next to the entire inhabited and bustling locality of Indirapuram.
Though closely connected to the busy Indirapuram, Gaurs Siddhartham is a serene city inside with futuristic living. The project is pre-certified by IGBC. The carefully designed landscapes inside the project make it a peaceful living destination. The land that is allotted by Awas Vikas Parishad promises a hassle-free living.
With a world-class school, convenient shopping complexes, and all kinds of other conveniences inside the premises, this is bliss in disguise.
At Gaurs Siddhartham, we are changing the definition of freedom. End your search for freedom outside and discover it within the boundaries. Get the lifestyle you deserve and the lifestyle you desire at Gaurs Siddhartham.
The society has a temple in the vicinity built with scientific planning. The temple is made according to Vaastu to spread positive vibes within the area. Now sit inside the temple in front of God's idols and connect with them whenever you want.
The club is all set to enhance the lifestyle of the residents of Gaurs Siddhartham with its wide range of offerings, which will help one to relax and rejuvenate. The club consists of all the modern amenities like Gym, Table Tennis, Carrom, Pool Table, Swimming Pool, Kids Pool, Play Area, Basket Ball Court, Badminton Court, Jogging Track and many more.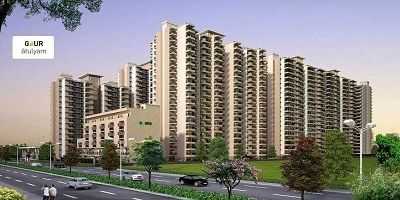 Gaur Atulyam is one of the most sought after residential projects in Greater Noida. With the combination of coveted features and world-class amenities, Gaur Atulyam promises to make your living experience a treasure to cherish forever.
The apartments, having a size range for 2BHK, 3BHK & 4BHK promises a pleasing life with their ultra-modern ambiance and lavish facilities. Benefited by the remarkable location advantages with Pari Chowk, the proposed metro station, an industrial area in close proximity, Gaur Atulyam is definitely a superior place to live in.
Live in style in best quality development by leading builders such as Galaxy Group Builder Projects & Godrej Properties Group Builder Projects .
Browse for more builders in Noida, Greater Noida, and Yamuna Expressway to find out the best for investing in prime property.