India's Gaurs Group has become one of the fastest-growing commercial property developers. They specialize in all segments and strive to be environmentally and socially responsible.
The business has a commitment to delivering projects on time and fulfilling customer expectations by using quality materials, infrastructure, and pricing.

Gaurs Group has been in business since 1995 and stands for Transparency and Excellence. We've never looked back because we have been creating high-quality architecture and customer satisfaction. Our company loves all of our customers and always delivers projects on time that are meeting specifications.
Gaur Group has developed many residential and commercial projects such as Gaur Heights, Gaur Green Avenue, Gaur Homes, Gaur Ganga, Gaur Grandeur, and more with deals located in Delhi/NCR. They are also developing the largest township of NCR located at Greater Noida West which is called Gaur City and in addition they have also developed one of the largest malls in Greater Noida West- Gaur City Mall.
Well organized team
The company is committed to improving construction practices and sustainable design, led by individuals with deep knowledge and an eye for quality.
The leaders and skilled professionals at our company are committed to the development of real estate projects that push the industry to new heights.
Phenomenal craftsmanship
The Prestige Group is a company that has been synonymous with innovation and phenomenal craftsmanship for years.
They have a great track record of delivering high-quality work. Plus, they've met international quality standards in the past.
Creation of various landmark projects

A pioneer in new technology, the company has created many major developments. The spirit of creativity is reflected in all projects, big and small.
The company has set trends of architectural design in a global modern world that touches the horizons of excellence.

GYC is an integrated township sprawled over a massive 101 hectares (250 acres). It is situated on the Yamuna Expressway, which is a six-lane (extendable to 8 lanes), 165 km. The long access-controlled highway connecting GYC to Noida, Greater Noida, and Delhi. A well-planned road with flyovers and interjections enabling clutter-free traffic.
The proposed metro will further enhance its connectivity to the DMRC network. Gaur Yamuna City is one of the most significant amalgamations of residential, commercial, and retail outlets, making it the talk of the town. With the basic civic infrastructure of the highest standards, it also possesses state-of-the-art amusement and recreational activities.
The entire township is thoughtfully planned to give an excellent experience. It offers Plots, Apartments, Retail Shops, Studio Apartments, Themed Villas, Sports, and a lot more.

16th Parkview
16th Parkview offers spectacular and unparalleled views of the capital region. It will become the most wanted residential choice for anyone wanting to live in the NCR area. The development comes complete with a sports court, gymnasium, swimming pool and all other amazing amenities.
This project is full of green space: there's a children's playground, lots of open green space and the apartments are surrounded by 65% lush greens. This means that you get more than enough room for the price, and it also ensures high returns down the line. The location is great too- it connects to major parts of the city.
The project will be a one-of-a-kind residential property that consists of 3 BHK apartments and individual floors. The project is part of the Gaur Yamuna City township in NCR, which is known for its amenities and design. The project will also have an exclusive temple, sitting area, play area, aroma garden, landscaped court, feature well and more than you could ever need.

2nd Parkview
The Project is located in the 251 sqm. (1 acre) Gaur Yamuna City and offers affordable, residential plots from 65 sq.meter to 347 sq.meter in size. This high-quality development promises you high returns for such a prime location. The 2nd Parkview plots are right by the lake, and with its state of the art infrastructure, it will be one of a kind.
The total number of plots in this project is 611, surrounded by fresh air and lush green areas. Buying a plot in the second park view will give you the chance to construct your own villa and for speedy construction by experts, Gaurs Group can do the same for you.
The future of living is all about creativity and innovation. With futuristic projects like Gaur Yamuna City, you can push boundaries in the realms of design, sustainability, and creativity. At the core of the project is a leading location near an international airport, lush green spaces, open areas for events and social gatherings, facilities like milk booths up to 200 square meter each, a multi-purpose hall/club with 700 square meters that has not only a strong design but also sustainable features, and last but not least a police station . It's all about building a new heart for NCR.
2nd Parkview will be the pioneer of integrated living, inspiring those around it with a perfect combination of dynamic experiences, innovation, and iconic design.

32nd Parkview
A new part of Gaur Yamuna City that offers premium residential plots, world-class infrastructures and a wide selection of apartments for rent. At 32nd Park View, we ensure a happy life. Residents can buy with confidence knowing they will get an affordable price, high returns on their investment and peace of mind from the quality construction.
The township offers ready to build plots and also provides amenities like a clubhouse, garden, swimming pool, badminton court, and gymnasium. Owning your dream plot in 32nd Parkview will be a once-in-a-lifetime opportunity that you shouldn't let pass while it lasts. With these 488 plots, you'll have the opportunity to enjoy a new wave of living with lush green surroundings and fresh air.
With lush green gardens and beautiful views, 32nd Parkview is an oasis in the city. Relax with a moment of tranquility at this modern and affordable community, which offers luxurious living spaces. Spend some time nurturing your mind, body, and spirit with the help of our unique facilities.

Victorian Era
The Elegance of Victorian Era Comes To Gaur Yamuna City. A preeminent masterpiece in the world of luxury residences, Victorian Villas hold a mirror to the architecture and lifestyle of a culture that was at the heights of magnificence. The 3 and 5 BHK villas here have been designed to make the eyes widen in wonder and the heart flutter in anticipation.
Located in the beautiful city of Orlando, we offer all the amenities that you need to live an extraordinary life. You'll be able to enjoy luxe living from the Victorian Villas and build a future for you and your family.

Gaur Runway Suites
Gaurs Runway Suites is an ultra-modern concept with a limitless experience of contemporary living. Modishly built, it has commercial stores up to the third floor followed by multiple-level parking and the rest of the tower has studio apartments.
The Studio Apt. comes in at a size of 42.73 sq.m (460 sq. ft.). It offers something everyone wants and needs--a great place to live. The Studio Apt forms part of Gaur Yamuna City, which also boasts its own world-class amenities to make your lifestyle more exclusive.
GYC has many advantages due to its location on the six-lane Yamuna Expressway, which makes it easily accessible and close to several amenities. One of GYC's most attractive features is Gaurs Runway Suites; with its proximity to the airport and great commercial and retail locations, Gaurs Runway Suites makes a perfect spot for home buyers.

Gaur City 7th Avenue
At Gaur City, we understand that living means being able to walk to everything you need in your community. You'll have easy access to work and play with every amenity within walking distance. With our smart and innovative design, Gaurs Group is the first developer ever to get completion certificates from Greater Noida (West). So come home to Gaur City today!
Gaur City has a lot to offer, from low budget-friendly prices to fantastic infrastructure. The township is certified as having environmentally-friendly residential and commercial buildings; many of them are designed by the renowned Singapore-based consultant.
The project offers 2, 3 and 4 BHK apartments. It includes a 70112.25 sq.metre sports complex which includes an open gym and a cricket academy run by Former Indian Cricketer - Mr. Madan Lal. This is just one of the project's many amenities which include schools, crèches, gyms and restaurants. There's also petrol stations, multiplexes and more!

Gaur City 14th Avenue
By being accessible to all, Gaur City provides a safe environment and lets you take advantage of the wonderful scenery. There is no need to spend time on public transportation going to different places.
Gaur City is the first Integrated Smart City in the region, and it offers a great selection of price-friendly apartments in a fantastic location. The infrastructure is unbeatable, and with an ongoing construction boom there's never been a better time to buy or rent.
Not only is Gaur City certified by the Indian Green Building Council (IGBC), this township also has a superior master plan designed by the renowned Singapore-based consulting firm. In addition to this, the township has all of your daily needs sorted out for you with grocery stores, vegetable and daily-need stores, CBSE affiliated schools, restaurants, petrol stations and much more.

Gaurs Siddhartham
Gaurs Siddhartham is a world absolute among its peers. Beautiful, lush surroundings are present, as well as an assortment of amenities and ample space between high-rises. Smart living over natural resources empowers the residents to enjoy an eco-living in this tranquil location.
It's located right next to Indirapuram, and is just a stone's throw away from all of the NCR. This prime location ensures easy access to everything you need. Connectivity to NH-24 (NH-9) will make traveling smoother and more convenient than ever before.
The National Highways Authority of India (NHAI) has proposed expanding the lane from 4 lanes to 16 in NH-24. Now, you can enjoy your commute without getting stuck in a traffic jam at Gaurs Siddhartham. The project will take up land that is in close proximity to the populated and bustling locality of Indirapuram.
Gaurs Siddhartham is a peaceful, futuristic city inside a bustling Indirapuram. The project is pre-certified by IGBC and the complicated landscapes inside make it easy to live there. The land allotted by Awas Vikas Parishad looks promising and guarantees hassle-free living.
The temptation to get out of the fence and find yourself some bliss can be difficult to resist. And that's okay! But we have a tip for you: Gaurs Siddhartham is where you'll find the temptation of the outdoors without any of the risks. Here, you don't need to leave and come back again; all your needs are met on campus. You'll live well, inside our boundaries -- get the lifestyle you deserve and have been dreaming about at Gaurs Siddhartham.
The temple is made according to Vaastu, which is a tradition originating from India. It helps spread positive vibes within the area. You can now sit in the temple and speak with God's idols whenever you want.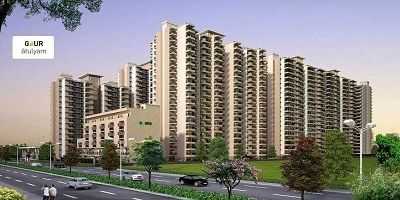 Gaur Atulyam is one of the most sought after residential projects in Greater Noida. With the combination of coveted features and world-class amenities, Gaur Atulyam promises to make your living experience a treasure to cherish forever.
The apartments, having a size range for 2BHK, 3BHK & 4BHK promises a pleasing life with their ultra-modern ambiance and lavish facilities. Benefited by the remarkable location advantages with Pari Chowk, the proposed metro station, an industrial area in close proximity, Gaur Atulyam is definitely a superior place to live in.
Live in style in best quality development by leading builders such as Galaxy Group Builder Projects & Godrej Properties Group Builder Projects .
Browse for more builders in Noida, Greater Noida, and Yamuna Expressway to find out the best for investing in prime property.
For more information visit: Gaursons Group