The Supertech Limited has firmly established itself as one of the leading developers of real estate in India by imprinting its ineffaceable mark across all asset classes. The company strives to innovate, excel, and promote sustainability.
The company cares about customer needs, be it timely delivery of projects or living up to commitments in terms of using quality materials, infrastructure, and pricing.

Well organized team
The company is headed by individuals with adroit capacity. They have employed and collaborated with high caliber architects and interior designers to ensure quality and sustainability.
The leaders and skilled professionals of the company have worked towards launching out of the league projects and take the real estate sector to the next level.
Phenomenal craftsmanship
The Prestige Group today has become a name that is synonymous with innovation and phenomenal craftsmanship.
They have been delivering high-quality projects and meeting the international quality standard.
Creation of various landmark projects

The company has pioneered many landmark developments. The spirit of creativity is reflected in all the projects.
The company has set new trends of architectural design in the contemporary global scenario touching the horizons of excellence.
About Us:-Supertech Limited, India's leading real estate developer, was founded 32 years back in National Capital Region and since then has been scaling new heights by each passing day. The company has set new trends of architectural finesse in the contemporary global scenario touching the horizons of excellence.
Established under the dynamic leadership of Mr. R. K. Arora, Supertech has led to the creation of various landmark projects. The leaders and skilled professionals of the company have worked towards launching out of the league projects and take the real estate sector to the next level.
Supertech is the pioneer to launch the concept of mixed-use development in India and to come up with high rise constructions in North India.

Supertech North Eye
Supertech North Eye is the tallest residential building which makes you feel that you are flying in the sky this project is launched by the leading group in the real estate market named as Supertech limited Located in the Sector-74, Noida.
Supertech North Eye Sector 74 Noida is providing different spaces like ATMs, Bank Space and Lockable Spaces, 1BHK Studio Apartments, Retail Shops, etc. with all the interesting facilities. This one thing is unique that is a structure in the upcoming time and provides an eco-friendly environment that gives you fresh air to breathe and makes your body fit and fine.
It has 66 floors in 255 meters heights. Don't measure the project on floors or in meters only feel that you are in the sky. Supertech North Eye 1 BHK Studio Apartments placed at Sector-74, Noida. The size of these apartments varies from 535 to 565 sq. Ft.
Every important place is closer to this project, like hospitals, schools, malls, etc. It gives the advantage of well connected with other places the roads join it with Delhi and Ghaziabad too.
Prices are so affordable or within the budget, in these different types of payment are available. They used new technology and fulfilling all the needs of the client.

Supertech ORB
Supertech ORB is the circular shaped 46 storey luxury residence at sector 74, Noida. Part of the 50 acres integrated township, facing North Eye, the project is built by the Supertech ltd and is one of the luxury dwellings for the one who dares to go away from the convention.
Circular or better say round is the perfect architectural shape that gives maximum sunlight and seamless circulation of air. We provide you super spacious 3/4 BHK apartment in the floor area of 2223 Sq. Ft. To 4270 Sq. Ft.
Circular is the choice of one who goes beyond and steps out from the crowd. So enjoy being the residence of one of the three-tower landmark, which will be the address of futuristic luxury homes with high tech automated facilities. The circular shape will eradicate the useless cold spot of the house and will provide spacious living.

Supertech Supernova
Supertech Supernova Nova Residences is located in Sector 94, Noida Expressway in Noida. Supertech Supernova Nova Residences is currently an Advanced Stage project and is available at an approximate price of 13050 Per Sq. Ft. Onwards.
Supertech Supernova Nova Residences is offering two towers of 2, 3 BHK Apartment in size ranging from 1330 Sq. Ft. to 2040 Sq. Ft.Supertech Supernova Nova Residences is approximately 0.6 Kms from Kalindi Kunj Link Road and ~0.7 Kms from Noida-Greater Noida Expressway.
Carpet area as a % of the saleable area is around 51%. BuiltUp area as a %age of the saleable area is around 71%.
The project has a connectivity rating of 9.5, a livability rating of 6.7, a lifestyle rating of 7.6, and value for money rating of 6.5 out of 10. The project has Premium Facade, Exquisite Landscaping, Major Construction Partner, Iconic Tower, Outstanding Architecture, All Luxury Specifications, Renowned Architect, Grand Entrance Lobby, Good Facility Clubhouse, Advanced Technology Features, Green and Open Area.

The Romano
Pinch yourself hard. Roll your eyes twice. If possible, twist your ears. The news is unbelievable. The Rome that you dreamt of, the Rome that you heard of, the Rome, whose name made you heart skip a beat, is coming to town and introducing The Romano at Sector 118, Noida.
Premium residences based on a classic Roman theme.Roman arches, windows, domes, ceilings, and more, complemented beautifully by all modern age amenities that you desire.
A residential project that's crafted to make you feel you are in Rome. A perfect mélange of ancient glory & contemporary luxury. Truly, a Rome, where you can find your home.

Sports Village
Sports Republik is a joint development of Supertech and Ajnara to create a world-class sports project at Greater Noida (West).
Sports Village is a part of this project that is being developed by Supertech and offers 2/3 BHK Residences and Villas. It gives you a breathtaking experience that will tempt you to stay here with lush green fields, world-class Sporting academies, modern amenities, and infrastructure.
Hafeez Contractor adds a feather to this project as this masterpiece has been created by him. This township gives you exquisite living with its vast open spaces surrounded by greenery and sports amenities.
Supertech Sports Republik is situated in the prime location of Greater Noida (W). This township consists of 1000 apartments that are set to give you a neighborhood that can be cherished forever.
Every square inch of Sports Republik has been mindfully planned, designed, and executed to exceed your highest standards.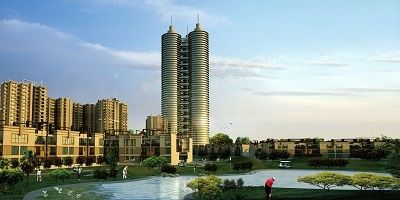 Golf Country
The Golf Country is spread over a vast stretch of 100 acres and ideally situated on what will soon become the corridors of power, lying as it does on the cusp of the national capital and the fastest growing area surrounding it.
The state-of-the-art modern golf course is designed to meet international specifications and the tastes of those travel around the world. And the homes, along with the amenities, are designed to bring the best of the world home to you. Playing golf is the privilege of the few and the chosen. Imagine then, living in one.
Supertech presents the exclusivity of owning your own home amidst a sprawling golf course in Golf Country. Situated on the rapidly developing Yamuna Expressway, the Golf City is set to be a landmark. And the home of those in power.
The Golf Country is dotted with individual plots set among the scenic golf course. Pick from the few and the exclusive sites to make it your home. Walkout to play a game or just catch the sunrise over the greens. You could also choose from the tasteful villas and highrise apartments. Whatever your heart settles on, in the Golf Country, you will have settled on something special.
Nothing could be better than a home in a Golf Course. But we have tried.

River Crest
Rudrapur is a growing city in several ways. Many multi-national brands vouch for the place and plan to expand furthermore. The residential sector is also booming with world-class developments like Supertech RiverCrest, a 24-acre metropolitan township. Come, enjoy riverside living, and be surrounded by scenic beauty.

Supertech Livingston
Supertech Livingston is set amidst beautiful lush greens to make you feel rejuvenated. This spectacular township is located in the heart of the country and offers 70% of open area within each plot. The open spaces at Livingston enthrall not just your mind, but also your spirit. The spaces have been designed, keeping in mind your need for expansive spaces that capture your imagination.
The township is a synonym for a clutter-free, pollution-free, rejuvenating atmosphere that fosters harmonious co-existence with natural surroundings. Replete with facilities such as school, shopping mall, golf course, etc., it is built to provide you with world-class amenities within close vicinity.
Livingston is being developed within the premises of India's first global city - Crossings Republik in Ghaziabad. This project is an amalgamation of 7 real estate companies, including Supertech Group.
All companies conceived together with a global city which is culminated in the form Crossings Republik, and within this global city, Livingston is being developed by Supertech Group.
The project location of Livingston, which falls under the territory of Ghaziabad, is rapidly growing and features in Newsweek International as the 10 topmost dynamic cities of the world during the year 2006. It is on its way to becoming one of the most advanced and top class cities in the world and stands as the perfect investment and housing destination.
Livingston is a part of integrated township spread across 360 acres. It is committed to providing you with a luxurious lifestyle in your dream home within this township. Replete with all facilities one can think of, such as ultra-modern apartments, golf courses, clubs, swimming pools, shopping malls, daily needs stores, hospitals, and a gymnasium.
You shall be greeted with a blissful environment devoid of chaos and pollution, where lush greens and wide-open spaces await you. You feel like you are in a world so different and pure. Located within close vicinity to Noida, Greater Noida, New Delhi, Airport, Railway Station a developing Metro line, this is the place you want to spend the life that you deserve.

Palm Greens
Supertech Palm Greens Moradabad is set amidst beautiful lush greens to make you feel rejuvenated. Supertech Palm Greens provides you 70% of the open area and an option of 2, 3 & 4 Bedrooms premium apartments. A 5-star hotel is located adjacent to the project site, which is on National Highway - 24 (Delhi - Hapur - Gajraula - Moradabad), approx 150 KM from NCR Delhi.
Besides that Palm Greens is well connected by railway, the nearest railway station is just 13 KM away, and by a proposed Airport (Mundapande) is just 20 KM away. Your stay in Palm Greens, Moradabad, is surely going to be spiced up. So be ready to experience a world-class infrastructure in Supertech Palm Green Moradabad with its screen surroundings and an ultra-modern lifestyle all within your reach in a pollution-free environment.
Supertech is committed to providing world-class living ambiance not only at Metros and Big Cities but also in comparatively small but rapidly emerging cities like Moradabad in Uttar Pradesh. Our one of the flagship projects is taking shape right here, as in the form of Palm Greens, Moradabad.
In the Palm Greens project, Supertech is providing premium apartments with all infrastructure and luxuries of Metro away from the actual metro city. Palm Greens is the concept of residential project in the lap of nature and ecology with the ample open green space.
Supertech has constantly strived to offer you true value for money homes that are the best in quality construction and finest facilities.

Doon Square
Dehradun is located just 230 kilometers from the national capital and is well connected by road, rail and air to major Indian cities. Its proximity to the sacred Ganga river, the religious towns of Rishikesh, Haridwar, Badrinath, and Kedarnath and the popular hill station of Mussourie makes it an important destination for tourists and adventure sports lovers.
Dehradun property has seen a major boom since its reinstatement as the capital. People from all over the country, including NRIs (Non-Resident Indians), have been aggressively investing in the city.
According to the survey conducted by Business Standard, Dehradun ranks 5th on the NRIs list of property investment destinations. Properties in Dehradun promise you a high return on investment both financially and by the quality of life.
Uttarakhand government has taken active steps in improving the infrastructure of the city. Today Dehradun can boast of having one of the best power and water supply distribution schemes in the entire country.
World-class comfort and service at fully furnished serviced apartments.
Experience the perfect combination of space, aesthetics, and design nestling amidst lush green surroundings. Equipped with ultra-modern facilities, Serviced Apartments ensure that you enjoy the best of both worlds. Come, create your world in the lap of nature.
Live in style in best quality development by leading builders such as SUNRISE STRUCTURES & DEVELOPERS Builder Projects & Tata Housing Builder Group Projects
Browse for more builders in Noida, Greater Noida, and Yamuna Expressway to find out the best for investing in prime property.