The Supertech Limited has established itself as one of the leading real estate developers in India by building a reputation for quality. The company firmly believes in innovation and sustainability, tirelessly striving to achieve the highest standards across all asset classes.
The company cares about customers and works hard to deliver projects on time and make commitments to the customer. They also use quality materials in their infrastructure and have competitive pricing.
About Us:-Supertech Ltd., India's leading real estate company, has been going nationwide for 32 years and has never slowed down. The company sets new trends of architectural finesse in the modern world and always strives towards excellence.
Supertech was created under the dynamic leadership of Mr. R. K. Arora and this company has led to the creation of various landmark projects. The leaders and skilled professionals of Supertech have worked towards launching out of the league projects and take the real estate sector to a new level in India.
Supertech is a pioneer in launching the concept of mixed-use development and high-rise buildings in North India.

Supertech North Eye
At Supertech North Eye, you'll live in the tallest residential building with a view that takes your breath away. This project is being led by the leading developer in the industry, Supertech Limited. It's located at Sector-74 in Noida.
Supertech North Eye Sector 74 Noida is providing various types of spaces, such as locker units and The Bank Space, with all the interesting facilities. Something impressive about this place is that it's situated in the upcoming time period, and offers an eco-friendly environment that provides fresh air so you can breathe and a healthy lifestyle.
It has 66 floors and is 255 meters tall. Don't measure the project on height or square-footage only; feel that you are in the sky. Supertech North Eye 1 BHK Studio Apartments for sale at Sector-74, Noida. These apartments range from 535 to 565 sq feet.
This project is right next to hospitals, schools, malls, and more. The proximity of many nearby connecting roads makes it convenient to travel between this location and other areas around Delhi or Ghaziabad.
All the prices are affordable for their many different payment types. They use cutting-edge technology to create everything you need, and without sacrificing quality or service.

Supertech ORB
Supertech ORB is the circular-shaped residential building in Sector 74, Noida. It's just one of the luxurious properties from the 50 acres integrated township, that offers extraordinary views with its location close to North Eye. The construction is done by Supertech and it's one of the property offerings for those who want to walk away from traditional luxury.
Our 3/4 BHK apartments provide a circular shape. Round is the best architectural style because it allows for maximum sunlight and seamless circulation of air. We have space in apartment sizes ranging from 2223 to 4270 square feet.
Circular is the name of a home which will provide futuristic luxury and convenience. The circular shape helps eliminate cold spots in the house by providing ample space for living.

Supertech Supernova
Supertech Supernova Nova Residences is located in Sector 94 on the Noida Expressway in Noida. Currently, this project is at the Advanced Stage and costs around 13050 per sq. ft. onwards.
Supertech Supernova Nova Residences are offering two towers of 2, 3 BHK Apartments. The size of each apartment ranges from 1330 sq feet to 2040 sq ft. That's 0.6 Km away from Kalindi Kunj Link Road and close to the Noida-Greater Noida Expressway.
This project has a connectivity rating of 9.5, livability rating of 6.7, lifestyle rating of 7.6, and value-for-money rating of 6.5 out of 10. It also has the following amenities: Premium Facade, Exquisite Landscaping, Major Construction Partner, Iconic Tower, Outstanding Architecture, All Luxury Specifications, Renowned Architect, Grand Entrance Lobby, Good Quality Clubhouse Facilities with Advanced Technology Features. And it is also green and spacious with enough open area.

The Romano
If it feels impossible, pinch yourself. Roll your eyes twice. Turn your head left, then right, and then left again. Even if you are able to, the news is unbelievable. The Rome of your dreams—the Rome that you heard of—is coming to visit us in Sector 118 of Noida.
These premium residences are based on the Roman theme. You'll have access to arches, windows, domes and ceilings that give off a classic and luxurious feel. Each residence is also equipped with all the modern amenities you need to be comfortable.
A residential project designed to bring you the magic and elegance of Ancient Rome. A perfect blend of old world sophistication and modern day luxury, discover your new home in Rome.

Sports Village
Sports Republik is the joint venture between Supertech and Ajnara to create a sports project for Greater Noida.
Sports Village is part of this project being developed by Supertech and offers 2/3 BHK houses. It gives you an awe-inspiring experience that will tempt you to stay here with lush green fields, world-class sporting academies, modern amenities, and infrastructure.
Hafeez Contractor provides a feather to this project as he created this masterpiece. This town offers you exquisite living with its vast open spaces surrounded by greenery and sports amenities.
Supertech Sports Republik is situated in the prime location of Greater Noida, India (W). This township consists of 1,000 apartments that are set to give you a neighborhood that can be treasured forever.
Sports Republik was designed based on a clear vision of what makes Sports Republik the best. We take care of every detail so you don't have to, and we do it flawlessly.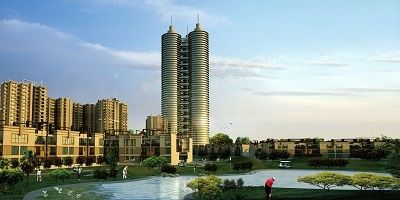 Golf Country
The Golf Country is one of the most expansive 100-acre properties in Central India. It's situated on what will soon become the central corridors of power and is easily accessible, being close to both the national capital and the fastest-growing area surrounding it.
The cutting-edge golf course is designed to meet international and global safety and aesthetic standards. Plus, it features homes, complete with amenities, that are meant to connect you with the best of what the world has to offer. Playing golf is not for everyone; even so, imagine living in one.
Supertech's Golf Country offers an excellent opportunity for anyone looking for exclusivity in a community with luxurious amenities. As the Golf City bulldozes through remote terrain to create some of India's most sought after neighborhoods, it will undoubtedly become one of the country's most powerful addresses.
In the Golf Country, you can find a home site to suit your needs. Choose from the few and exclusive sites that dot this scenic course, or stroll out onto the greens for a round of golf or just to catch the sunrise over the trees. You could also choose from tasteful villas or high-rise apartments. Whatever your heart desires, in the Golf Country you will have found something special.

River Crest
Rudrapur is a growing city in more than one way, thanks to the many multinational brands that have come here and plan to grow even more. The residential sector has also been booming with prestigious developments like Supertech River Crest, a 24-acre metropolitan township. With riverside living and scenic beauty galore, Rudrapur is a place you'll love to call home.

Supertech Livingston
Located in the heart of India, Supertech Livingston is a lush and revitalizing township with 70% open spaces within each plot. Stone paved walkways wind through acres of meadows, as rolling hills provide a picturesque backdrop for relaxation. The distinctive community design enthralls you at every turn, and gives you the freedom to shape your perfect home in a setting that enjoys unrivaled access to schools, colleges, markets, shops and religious places.
As a resident of the township, you'll enjoy a clutter-free, pollution-free environment. Enjoy your close proximity to facilities such as schools and shopping malls, as well as amenities like golf courses.

Palm Greens
Supertech Palm Greens Moradabad is in a beautiful and lush green area, making you feel rejuvenated. You'll find that Supertech Palm Greens offers 70% of the open area and 2, 3 or 4 bedrooms' worth of options. A 5-star hotel is located right next door, enabling an easy transition between your home and business. This project is also astounding because it's on National Highway - 24 (Delhi - Hapur - Gajraula - Moradabad), which is at an approximate 125 KM distance from NCR Delhi.
Palm Greens is well-connected and just 13 kilometers away from the nearest railway station. There's a proposed airport (Mundapande) that is just 20 kilometers away. Your stay in Palm Greens, Moradabad, will be absolutely amazing because of the top-notch infrastructure offered by Supertech (Palm Greens Moradabad). With screen surroundings and luxury living all right at your fingertips, there's no reason to not make this destination your home today!

Doon Square
Located just 230 kilometers from Delhi, Dehradun is well connected by road, rail, and air to major cities across India. The proximity of the city to the sacred Ganga river, the religious towns of Rishikesh, Haridwar, Badrinath, and Kedarnath and the popular hill station of Mussourie make it an important destination for tourists and adventure sports lovers.
In recent years, property in Dehradun has seen a sharp increase in buyers. There has been a spike in the demand for housing, and many NRIs (Non-Resident Indians) have invested in the city.
Live in style in best quality development by leading builders such as SUNRISE STRUCTURES & DEVELOPERS Builder Projects & Tata Housing Builder Group Projects
Browse for more builders in Noida, Greater Noida, and Yamuna Expressway to find out the best for investing in prime property.
For more information visit: Supertech Limited Group