The IITL Nimbus Group has firmly established itself as one of the leading developers of real estate in India by imprinting its ineffaceable mark across all asset classes. The company strives to innovate, excel, and promote sustainability.
The company cares about customer needs, be it timely delivery of projects or living up to commitments in terms of using quality materials, infrastructure, and pricing.

Well organized team
The company is headed by individuals with adroit capacity. They have employed and collaborated with high caliber architects and interior designers to ensure quality and sustainability.
The leaders and skilled professionals of the company have worked towards launching out of the league projects and take the real estate sector to the next level.
Phenomenal craftsmanship
The Prestige Group today has become a name that is synonymous with innovation and phenomenal craftsmanship.
They have been delivering high-quality projects and meeting the international quality standard.
Creation of various landmark projects

The company has pioneered many landmark developments. The spirit of creativity is reflected in all the projects.
The company has set new trends of architectural design in the contemporary global scenario touching the horizons of excellence.
About Us:- In an era, when the construction industry was in its nascent stage, Mr. Bipin Agarwal revolutionized the industry by introducing world-class quality construction at truly affordable prices.
Nimbus Projects Ltd. was incorporated in the year 1993. Mr. Bipin Agarwal helped shape the future of the real estate sector in India with his eye for detail and his determination to persistently deliver best-in-class products.
What began as a small real estate enterprise in NCR 10 years ago, is now a builder extraordinaire – a force to reckon with. Today, the company enjoys a strong presence in NCR and has made its position as one of the leading companies in the Real Estate Industry.
The company is one of the fastest-growing entities in the realty sector with a difference that offers luxury for reasonable costs, excellent customer care levels with the highest customer satisfaction index, and the highest imaginable standards for the welfare of its staff, society as well as for the environment.
The Company at present engaged in Real Estate business, construction of residential complexes in the National Capital Region ((NCR). It has acquired plots of land on long term lease, under Builders Residential Scheme (BRS) of the Greater Noida Industrial Development Authority (GNIDA), New Okhla Industrial Development Authority (NOIDA) and Yamuna Expressway Authority (YEA).
Apart from constructing its projects, the Company has also undertaken projects through four special purpose vehicles.
We build our homes with our hearts to create a space where you can create memories and make your dreams come true.
You come across Express Park View 2 just as you get on the Yamuna Expressway. It is a residential complex with topnotch amenities and facilities for the entire family. Comprising of 8 towers, it is not just big but also beautiful and would be simply a great place to live for many decades to come.
These ready to move spaces provide the perfect lifestyle. Marvel in the beauty of the green view and wake up each morning celebrating your home, Express Park View 2 is not just a residence, it is an experience. The peace and tranquillity it offers are unmatched in the NCR.
Sophisticated designs, specialized architecture, and state of the art facilities, Express Park View 2 spells class and comfort at affordable prices.
522 families are already living this experience!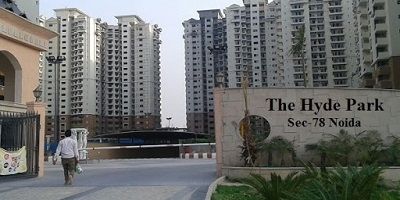 Hyde Park
Picture this — a living space with cutting-edge urban planning, smart infrastructure, and replete with systems running on the latest information technologies. This dream has turned into reality with Hyde Park, conveniently located in sector 78, just next to sector 50, Noida.
All roads lead you home and at Hyde Park, we ensure a premium experience every moment, every day. Your home is an extension of your personality and we take personal care to offer peaceful bliss away from the city's hustle-bustle yet an arm's stretch from the top hotspots.
With a customer-first policy, we ensure a transparent process that assures a high rate of investment as well. Experience an inspired city lifestyle with convenient access to popular shopping malls, dining and entertainment spots, social clubs, medical centers, and prestigious schools.
Prime location, open spaces, and world-class amenities, Hyde Park brings luxury to your doorstep. Spread across 15 acres of area, with 82% open landscaped spaces, The Hyde Park has 1 BHK studio apartments to 4 BHK apartments with a carpet area of 311 square feet to 1528 square feet.
With modern aesthetics and leading technology, the exquisite living experience will give you a reason to be at home more often.
At Nimbus, we pride ourselves on providing you with the lifestyle that you deserve. Elevators by OTIS and Kone, Fire pumps by Kirloskar, Bathroom fittings by Roca, and interior paint by Berger make it a truly world-class living.
Hyde Park residents will boast about the wonderful, vibrant tropical gardens and the signature peacefulness that's there for all to enjoy.
Apart from the wide selection of features and amenities, the convenient on-site basement parking offers great ventilation unlike the traditional drab and dingy basements. There is a continuous oxygen flow that makes it appear light and breezy.
The smart city concept is taking off around the world and we have brought it to Hyde Park via RFID technology implementation for vehicular movement through the township along with an app-based maintenance system for the residents.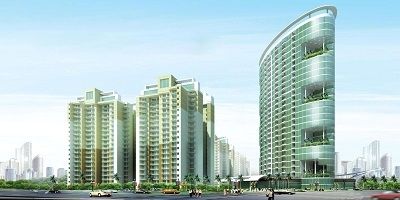 The Golden Palms
The Golden Palms in pursuit of our dream to bring world-class infrastructure to our customers, we have created unmatched developments in key business and residential locations.
Affordable luxury comes to sector 168 Noida. The Golden Palms, a new integrated residential cum shopping complex offers a chance to live in a lively location, right in the heart of Noida, where every lifestyle amenity is just around the corner. The project is just 25 minutes from South Delhi, 10 minutes from DND & Sec -18 Market, 5 Minutes from Amity University.
The interiors reflect the way we live today. The contemporary and minimalistic style emphasizes the spacious open living space. The clean lines, natural light, and modern high-quality finishes make it the place you want to call home.
Apart from the wide selection of features and amenities, the convenient on-site basement parking offers great ventilation unlike the traditional drab and dingy basements. There is a continuous oxygen flow that makes it appear light and breezy.
The most striking feature of the Golden Palms is its club. The Club is a home away from home for those who wish to enjoy the best the business and entertainment hub of Noida has to offer.
A renowned 5-Star Hotel group, the Golden Palms, offering premium dining and social facilities to the guests manages it. The same group also manages the 'Tower O' at the township. Available on a short term or long term lease, the service apartments in Tower O offer unparalleled luxury with extensive services and facilities.
The Golden Palms Club has a total area of 30,000 square feet. Apart from other facilities, it includes 3 banquet halls with an area of 2800 square feet and can accommodate up to 500 people. It also features an additional multipurpose hall with an area of 1300 square feet that can accommodate up to 250 people.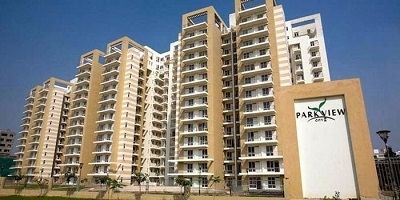 Express Park View-I
These sophisticated apartments are built with the highest specification and each possesses its unique character that emanates harmony, peaceful living, and privacy. Featuring quality fittings and fixtures, these are luxurious yet affordable homes for the residents.
Open-plan living areas that culminate in balconies ensure natural light reaches deep into the apartments, and full-height glass doors provide a direct connection between the indoor and outdoor spaces.
Ideally located (Plot GH-03, CHI-V, Expressway, Greater Noida), amongst the major landmarks of Greater Noida, you are always at the center of both business and leisure.
Real estate can be an excellent investment. If you want to diversify your holdings beyond stocks and bonds, this property is an excellent buy. Close Proximity to world-class education centers like Amity University offers a perfect opportunity for students to come and study from nearby towns. You can easily make it a rental property and make your investment pay off.
Read About Other Builder - Jaypee Group