Samridhi Group is a leading provider of real estate services in India. It strives to innovate, excel, and promote sustainability when developing these properties.
Our team is dedicated to putting our customer needs first, whether it's delivering projects on time or fulfilling customer commitments such as using quality materials and infrastructure.
About Us:- SAMRIDHI GROUP is one of the country's fastest-growing private construction companies that was founded in 2013. We're reliable and dependable, providing innovative solutions for real estate projects and growth in an ever-changing landscape.
The company today is known for the superior quality of their design infrastructure. For the past decade, they've been constructing highly successful residential complexes on property with a triple advantage: convenience, location, and exceptional value in cost.
The company has a long foundation and history that set it apart. It's these foundations that make the SAMRIDHI GROUP different from others.
SAMRIDHI GROUP has increased ownership in the last ten years as a result of the overwhelming support from its dedicated employees who believed in the future of our group. Thanks to the vision of Mr. Dinesh Kumar Gupta, we continue to grow and succeed with every investment.

Each project constructed by SAMRIDHI GROUP has a unique design because it was created to commemorate a special moment in someone's life. Our focus on creating luxury residential has proved its worth with a job well done. Our story is not just about creativity and writing spectacular designs - it's about taking care of the environment you live in, too.

Moreover, SAMRIDHI GROUP has made a significant presence in the modern Indian real estate industry.
Samridhi Grand Avenue
Samridhi Grand Avenue has been called one of the best residential projects in Greater Noida, as it offers top-notch homes. There's also a wonderful location and beautiful design, great interiors, amazing landscaping, and much more!
This ready-to-move-in project in Greater Noida West is a 7-acre site perfectly equipped with advanced technology to provide world-class amenities that will dramatically change the lifestyle for buyers and investors. Strategically located on a three-sided open space, Samridhi Grand Avenue offers broad green belts and wide roads opening onto one side.
A lot of families moved into their new home with smiles on their faces. They're fully satisfied and are more than happy with what they got.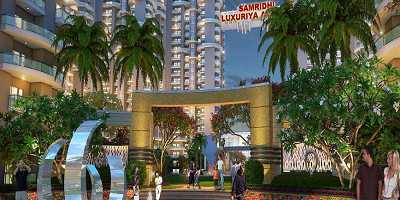 Samridhi Luxuriya Avenue
Samridhi Luxuriya Avenue in Noida sector 150 is a luxurious residential project that offers an unparalleled lifestyle in one of the highly coveted localities in NCR.
Samridhi Luxuriya Avenue is designed to boast a sense of dynamism, humor, and joy. This innovative construction will stand out from the rest and offer a spectacle to visitors.
The Samridhi Luxuriya Avenue has been designed and constructed by renowned architectural firms and engineering companies, making it a sight that's filled with unparalleled splendor.
Live in style in best quality development by leading builders such as Purvanchal Projects Builder & Saviour Builders Group Projects .
Browse for more builders in Noida, Greater Noida, and Yamuna Expressway to find out the best for investing in prime property.
For more information visit: Samridhi Group