The Samridhi Group has firmly established itself as one of the leading developers of real estate in India by imprinting its ineffaceable mark across all asset classes. The company strives to innovate, excel, and promote sustainability.
The company cares about customer needs, be it timely delivery of projects or living up to commitments in terms of using quality materials, infrastructure, and pricing.

Well organized team
The company is headed by individuals with adroit capacity. They have employed and collaborated with high caliber architects and interior designers to ensure quality and sustainability.
The leaders and skilled professionals of the company have worked towards launching out of the league projects and take the real estate sector to the next level.
Phenomenal craftsmanship
The Prestige Group today has become a name that is synonymous with innovation and phenomenal craftsmanship.
They have been delivering high-quality projects and meeting the international quality standard.
Creation of various landmark projects

The company has pioneered many landmark developments. The spirit of creativity is reflected in all the projects.
The company has set new trends of architectural design in the contemporary global scenario touching the horizons of excellence.
About Us:- SAMRIDHI GROUP is one of India's fastest-growing privately-owned buildings and construction companies. Since its inception in the year 2013, the group is counted among the country's top segments of real estate firms continues to grow stronger in the ever-changing scenario of economic, landscapes, and infrastructure development.
The company today is known for the superior quality infrastructure of design in residential complexes constructed at various prime locations that comprise of a triple advantage like as best investment opportunities, located at a prime location, and true and best value for money.
The company is based on these solid foundations that make the SAMRIDHI GROUP different from others.

Today, the group offers a diversified mix of high-rise residential and, commercial. The success of our group depends a lot on the shoulders of its dedicated employees and on the futuristic vision of Mr. Dinesh Kumar Gupta who invested a decade of his experience in guiding the SAMRIDHI GROUP to such height in a short span of time.

Each project constructed by the group holds a unique position in itself because of its signature design. At SAMRIDHI GROUP, we believe in creating luxury residential filled with all the modern-day amenities to meet the futuristic need of clients. Our story is not just about creating superior design but we also care to protect our environment.
Moreover, SAMRIDHI GROUP is nothing short of creating a new history in the modern era of the Indian Real Estate Industry.
Samridhi Grand Avenue
Samridhi Grand Avenue is one of the best residential projects in Greater Noida West. It offers you homes that stand apart from the rest. Yes, the location is fantastic, the design is excellent, Interiors are leagues ahead, Landscaping is in a class of its own.
This ready to move the project in Greater Noida West is perfectly equipped with the most advanced technology, so as to provide world-class amenities to uplift the lifestyle for a wide section of home buyers and investors. The project is spread over 7 acres which define the grandness of this project. Strategically located on a three side open plot Samridhi Grand Avenue offers broad green belts alternating with wide roads in three rows in succession parallel to its one side.
The project is now almost completed and many families have moved into their new home with smiles on their faces.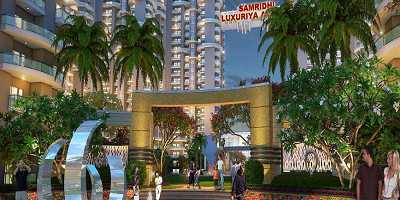 Samridhi Luxuriya Avenue
Samridhi Luxuriya Avenue in Noida sector 150 is a luxurious residential project by Samridhi Group. This residential project in Noida offers an unparalleled lifestyle in one of the highly coveted localities in NCR.
Samridhi Luxuriya Avenue is fully equipped with dynamism, exuberance, and enthralling construction will stand tall adding joy to those living in it and inviting envious glances of those staying elsewhere.
Designed by a world-renowned architectural firm and constructed by a reputed engineering company, thus, it can be said that the Samridhi Luxuriya Avenue is one of the best ongoing projects in Noida 150 which is ready to rewrite the saga of a lifestyle that's filled with unparalleled splendor.
Read About Other Builder- Saviour Builders