Sector 150 Noida, falls on the twenty-four-kilometer stretch of the Noida-Greater Noida Expressway. It is the most lucrative real estate destination. It is the most preferred real estate investment destination, having a combination of residential and commercial development.
Noida's sector -150 is catering to the luxury segment, offering world-class amenities to lure seekers of lavish lifestyles. The entire region repletes with various options of high-standard living.
The vital driver for the interest of sumptuous lifestyle-seeking buyers has been the availability of elaborate living in their budget.
The excellent metro connectivity and development of International Airport have further fuelled the interest of the home seekers who are looking for a splendid lifestyle away from the hustle and bustle of the city and yet well connected to significant locations.
Let's dig deep into the facts that are making it a buzzing destination for investment.
Robust basic infrastructure
Sector 150 Noida boasts robust infrastructure, wide and clean roads, shopping centers, etc. Noida Development Authority has dedicated eighty percent of this sector for green development and developing Shaheed Bhagat Singh Park spread in 42 acres of land. An International cricket stadium will also be constructed in this sector. Moreover, Sector 150 Noida has a striking new age feel.
Connectivity
Sector 150, Noida, is blessed with excellent connectivity to the major parts of Delhi and Noida. Newly constructed Eastern Peripheral is connecting sector-150, Noida to Faridabad, Ghaziabad, and Palwal. The future of sector-150, Noida appears bright due to metro connectivity, it will reduce the traveling time of the commuters. These connectivity developments make sector-150, Noida, one of the best destinations for investment.
Infrastructural development will spark the demand for a residential unit in sector-150, Noida. Well-developed infrastructure is making Sector 150 Noida the choice of homebuyers.
Affordability
Affordability is also one of the major highlights of the residential market of Sector 150 Noida. Sector 150 Noida has properties ranging from ultra-luxury villas to budget houses. The demand for premium housing at an affordable price is rising in recent years. Premium abodes at affordable prices boosted demand in the residential sector of Sector 150 Noida.
Commercial Hub
With IT Parks, SEZ, Film City, Business Zones, International airport, shopping centers are coming up in the surroundings of Sector 150 Noida. Infrastructural and commercial growth in this location has attracted well-known builders to develop projects in Sector 150 Noida. Developers like Godrej Properties, TATA Value Homes, Ace Group, Mahagun Group, etc. already have projects in this low-density sector.
You may also check some other Projects like Sector 143 Noida Builder Projects & Pari Chowk Greater Noida Flats in Noida, Greater Noida, Noida Extension, Yamuna Expressway, Noida expressway.
Great Lifestyle
Beautifully designed parks, entertainment zones, Sports facilities, fine dining restaurants create an international feel in this location.
In the last six months, this sector has seen a handsome appreciation. The several projects are in the completion stage, and we can expect excellent price appreciation in the next few months. At present, the average price in this sector is between Rs. 5000 per square ft. to Rs.9000 per square ft. , which is most likely to witness appreciation, especially after the announcement of Jewar Airport and Film City
Ace Golfshire, located in the strategic location of sector-150 Noida is a glorious high-rise community, comprised of artistically designed two and three BHK apartments. Standing on 5 towers, this colossal development consists of 440 lavishly designed units that are naturally well-lit and ventilated.
Among the 5 luxurious residential towers of Golfshire, tower 4 and tower 5 are designated as signature towers. Owing to its gratitude to the expansive open spaces that surround each tower, these homes offer panoramic views that soothe the mind and spirit of each resident. Ace Golfshire is designed to impart serenity with the green habitat and mesmerizing views.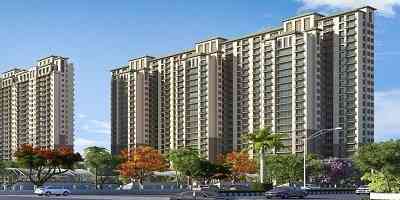 Welcome to a meticulously planned and ideally designed home at Le Grandiose sector 150 Noida, by ATS Group.
They are symmetric and thoroughly planned two and three-bedroom apartment homes designed to promise a life of reassuring comfort, convenience, and happiness.
ATS Le Grandiose has introduced a lavish development with a whole new lifestyle, spread across 20 High Rise Towers, consisting of 1172 units.
Samridhi Luxuriya Avenue is a beautifully crafted housing project that provides you the ultimate lifestyle which you always craved for. Luxuriya Avenue is a verdant, well-laid-out enclave of high-rise apartments. Strategically located at sector-150, a new way of living is defined in Noida. Spread across 21.85 acres, these apartments are enchantingly landscaped and thoughtfully laid out to give you a lovely sense of space along with maximum ventilation and natural light.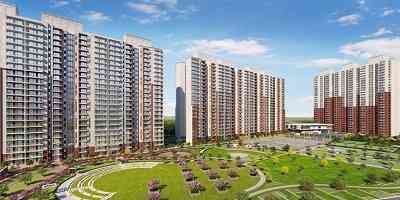 TATA Eureka Park in sector-150 Noida offers apartments perfect amalgamation of contemporary lifestyle and comfortable living. This place offers you a smartly planned living space and lifestyle. It provides app-controlled automation features where you can control all your electric appliances, lights, fans, and air conditioning of your apartment with just a tap from your smart mobile phone.
Check & compare the best residential, commercial, & industrial properties such as Farm Houses For Sale In Noida & Omaxe Connaught Place Commercial Shops in prime locations within your budget.
Discover your dream property from the best modern apartments, Villas, Penthouses, studios, shops, office spaces, etc. Find residential, commercial, and industrial plots in prime locations.